176-178 Petts Wood Rd, BR5 1LG, www.indianessence.co.uk
What motivated Atul Kochhar and Oberoi-trained Jitindar Singh to decide that what the small suburb of Petts Wood really needed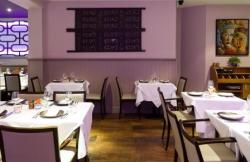 was a restaurant delivering their slick, modern Indian food remains a mystery. Setting up a Benares-lite beacon for discerning locals, offering narry a whiff of an onion bhaji or a samosa, is an honourable, if ambitious, concept. But wandering around the neighbourhood, Indian Essence is clearly the Kohinoor diamond in a crown of paste gems.
They've clearly captured the imagination of locals; the cosy dining room is busy and several tables are turned during our dinner. The menu frequently draws on successful Benares dishes, deconstructing and democratising them for what's essentially an upmarket high-street restaurant. Temptation to offer the'curryhouse staples' has been resisted, but there's evidence of a slight concession to that ilk on the drinks menu, which lists'Monster and Jaeger' under'shooters'.
Suffice to say, we do not indulge our dormant'post-pub lout' leanings, instead opting for the floral, ominous'Delhibelly' cocktail, which actually sits very nicely on the stomach, and a stunning virgin'Masala Mary'. Sling in a shot of vodka, and this would unequivocally be The Bloody Mary To End All Bloody Marys'. Poppadoms, though, could benefit from Wabi's trick of being stored in a dehydrator to retain that essential brittle bite, and chutneys are less-than finger-lickin'.
I'd happily have the amuse bouche – a paneer kofta dressed with various chutneys – writ large as a starter proper. Although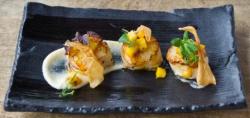 we've chosen well; sharing scallops that pair perfectly with our second choice – properly-crusted spiced potato cakes dressed with tamarind chutney and sweet yogurt. The parsnip and cumin flavour pairing on the scallop dish is one that will be repeated in my kitchen forevermore. Thanks for the flavour tip, Atul.
A platter of tandoori kebabs is a neat little boat on which sails a quartet of colourful morsels- Punjabi-style lamb chop pounded to extreme tenderness; a crusty king prawn; Bengali mustard-marinated salmon; and chicken slicked with a verdant herbal paste. It's a meaty treat both visual and visceral, gobbled up with breads – roti, kulcha, paratha – that are slightly meh, and could be so much more. All just a little lacklustre, and I do prefer my paratha from the tawa rather than the tandoor.
Gosht biryani is delivered in a nicely vat-like dish, gratifyingly sealed with dough so it's properly steamed – in the case of

the rice, for ever-so slightly too long. The meat is heavenly, though; the accompanying raita thick and rich. By comparison, pan-roasted John Dory is a spartan plate but, with its green marinade and roasted tomato relish, satisfyingly abundant in its flavour. It's a shame so many other diners have eschewed it for the more familiar 'chicken-curry-rice-fizzy-lager' triumvirate.
Overcoming that customer reticence is a tricky conundrum, and one that doesn't often plague the inner-city restaurateur, whose diners are more likely to engage with the menu and indulge a chef's culinary creativity. With a less assured clientele, you need compromise, as written all over the stricken face of a guest anticipating ice cream options more Neapolitan than the rather cosmopolitan choices of'cardamom' or'sugar cane'.
She seems pretty pleased with the pistachio kulfi she settles on, though – as are we. Other desserts are once again based

around Benares dishes- we recognise a tasty peanut butter, chocolate and sugar cane combo, and my Calcutta-style'cheesecake' echoes the raspberry and rose in Atul's bhapa doi. A subtle cardamom chocolate fondant is a good illustration of the kitchen's ability to temper the dominant Indian flavour in a dish guaranteed to curry favour with the local palate.
There's no denying the food quality, but the location sadly seems to undermine Indian Essence's output. Intended concept doesn't quite gel with the demographic – a real shame. The answer, perhaps? Ask not what Atul can do for Indian dining in Petts Wood, but what the people of Petts Wood are willing to do for Indian dining. To be honest, I'm not entirely sure they're ready to relinquish requests for 'wet lager' and vanilla ice cream for some quite delectable, different dishes.