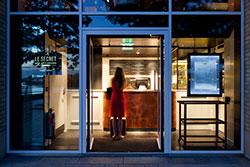 Try to think of where in London you could have a cracking French meal, and Canary Wharf might not figure very highly on your list. It is here however, in a charming location on the river, that Benoit Dieppedalle, along with a couple of family members, opted to open Le Secret des Rôtisseurs. The focus is on French-style rotisserie chicken, spit-roasted to perfection.
The restaurant is split into two floors, mezzanine-style and on one side of the spacious room vast floor-to-ceiling windows give cracking views back into the centre of London, with the City on the North side of the river facing off with the Shard on the South bank.
On the other side of the restaurant is the bar area and behind it are the rotisseries that the chicken is cooked on, built in France and transported to Britain for Le Secret's use. They're impressive medieval contraptions, all pulleys and chains slowly rotating the chickens to make sure every square inch gets equal treatment from the wall of flames behind them.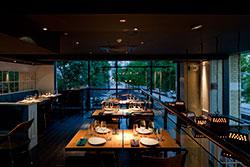 There's a sense of theatre and excitement in seeing the chefs skewer on the raw chickens, before watching them slowly rotate and go from a pasty Englishman white to the golden brown you'd associate with our French cousins down by the Riviera. It's also enjoyable and reassuring to see your food being made in real time.
The decor itself is pleasant and generally contemporary, although with little touches of old-world charm such as the wrought iron staircase up to the first floor of the mezzanine and the rotisseries themselves. There is a temptation to make restaurants like this lowly-lit to the point where guests struggle to see their food; clever use of spot lighting at Le Secret means that the atmosphere is both warm and there's still enough light to see what you're eating. The only thing that doesn't entirely work is the music – a curious mix of classic French tracks and modern hip-hop, the latter of which doesn't suit the vibe at all. Thankfully, it's a minor quibble and something that's easily fixed.
My starter of escargots and mushrooms on a buttery toast is hearty and pleasant. The toast is spread with a sort of herby green butter; very nice indeed. The escargots and thinly-sliced mushrooms lie in a mound on top, well-oiled and seasoned. J is also very happy with her chicken liver terrine which is made on the premises, and both our starters are accompanied by greens in a lovely dressing. Portion sizes are very good.
It isn't snails or terrine that we came here for though – however nice they may be. We watch in anticipation as one of the chickens that has been browning is taken off the rotisserie – could it be ours? A moment later, a waitress wheels a trolley towards our table, with the chicken atop. "We wanted to create a sense of theatre for the diner" Dieppedalle later tells me, and it certainly seems to have worked. It's expertly carved into its constituent elements by the waitress and neatly arranged on our plates.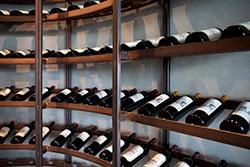 Happily, its beauty isn't just skin-deep, because it's utterly delicious; golden brown and well-seasoned on the outside, whilst still retaining a moist juiciness inside. It isn't just the seasoning that's giving it such fantastic flavour – we notice that there's a green filling on the inside which adds to the flavour. It comes with Le Secret's'secret' sauce for pouring over, though both J and I agree that the chicken doesn't need it.
Our sides of roast potatoes and honey-roasted carrots and parsnips make what would be an already fantastic meal even better. The carrots and parsnips in particular are wonderfully well roasted, well seasoned and firm in texture – a perfect, hearty accompaniment.
Like any proper French restaurant, Le Secret is serious about its wine. The family have personal links to the Bordeaux region, and select and import all of the wine themselves. The wine list is impressive in both its scope and detail; descriptions of the flavour profile and ratings from prominent critics are displayed alongside each wine.
A 2008 Clos Floridene is perhaps not the best accompaniment to the chicken – there's a taste of fruitiness and elderflower – but it's nice in its own right and we enjoy it. In fairness, our waitress accurately described its flavour and told us that it was an acquired taste, but we went for it anyway. It's good to see that both Dieppedalle and our waitress are very knowledgeable in this regard.
After half a chicken each we have difficulty managing the desserts but we feel it's necessary to make this sacrifice for you, our readers. Madeleines for me, profiteroles for her; both are satisfying enough but there's no doubt as to what the real star of the show is here.
As our evening draws to a close, both of us agree that we've had a fantastic meal. Utterly delicious food in a pleasing environment with great views and friendly, expertly informed service. It's also great value. Talking to Dieppedalle, it's clear that the family behind Le Secret have put a great deal of effort into it. What of the slightly unconventional location?
"At the moment, it's mainly local residents who dine here", he says. "It will take time for word of Le Secret to spread." I certainly hope it does, because here is a restaurant that is more than worthy of recognition.