Nahji Chu has already conquered Australia – now, she has set her sights on London. Alex Ozga caught up with Chu to find out who she is and what the Miss Chu brand is about.
"I'm a product of the Vietnam war", Nahji Chu says. "It has strengthened me as a person."
I have no reason to doubt the veracity of those claims. If you ever meet Chu, don't let her diminutiveness fool you – she radiates a measured assertiveness and authority, and is unafraid to make her opinion known on all things, from the current state of the fast-food market to what life is like for immigrants in Australia. There is no doubt that the horrors of her childhood have toughened her up and moulded her into the person she is today.
Judging by her toughness, you might guess that she'd be good at business, and that's no surprise, for Nahji Chu is the founder of Miss Chu, the chain of Vietnamese tuck shops that have proved a roaring success in Sydney and Melbourne. Now, Chu has set her sights on London, opening her first UK tuck shop in Whitechapel.
In spite of the success of her business in Australia, Chu and the food industry was not always a match meant to be. "Growing up in Australia, I never really wanted to go into Vietnamese food; that's the last thing I wanted to do. I wanted to succeed in other industries. My parents said'try to get an education, try not to do what other Vietnamese people do which is sell Vietnamese food in this country."
A career in those'other industries' – acting, filmmaking and journalism – didn't work out, "one, because it's tough to crack into those industries, two, it was impossible to crack into those industries as an Asian actor". Chu therefore took a step back and decided to "go back into food and make it amazing."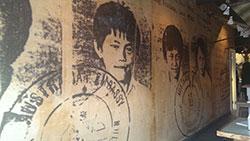 It certainly seems to have worked. There are now nine Miss Chu tuck shops in Australia and Chu has opened her first London store in Whitechapel. Why London? Aside from geographically diversifying her business for security, Chu says that "it suits the brand; it's a'the refugee travels the world' type of thing." Chu is certainly not attempting to hide the roots of her business – her refugee visa is the face of the brand and slogans such as'You Ling we Bing' make no bones about how tough life in Australia was for Chu in her youth.
With Miss Chu having finally arrivied in London, what sorts of things can Londoners expect to find at the Whitechapel store? Typical Vietnamese fare, Chu says, from rice paper rolls to Peking duck pancake, various types of dumpling to steamed fish. All are prepared on-site and on the day, using high quality ingredients.
In such a highly competitive market, one wonders what her tuck shop offers over the more conventional lunch outlets that City businessmen tend to frequent. Why choose Chu over Pret a Manger, Eat or Starbuck's? Chu emphasises the healthiness of Vietnamese food over that which is served in the usual suspects. "it's more nutritious, it's gluten free without really wanting to be gluten free – it just happens to be gluten free because of the nature of the food that it is". With the emphasis on rice paper rolls over bread or a wrap, it's easy to see why.
Will the business succeed? Chu says she is optimistic about Miss Chu: "Nothing's fail-proof, but it's almost there. It's more likely to succeed than it is not to." The Whitechapel branch has already garnered a warm reception, and we hope to be putting it through its paces soon to see if the fiery Chu has indeed succeeded in cracking into the UK market.
91 Whitechapel High Street, London E1 7RA
Miss Chu is open from 11am-10:30pm, seven days a week.
Follow Miss Chu on Twitter @misschutuckshop