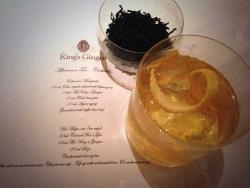 Cocktails had a bit of a moment in 2013 as they were transformed from that cheeky pre-night out tipple into sophisticated, everyday concoctions. The term mixologist suddenly began to regularly feature in my vocabulary, connoisseurs started throwing everything from smoke to bacon flavours at booze and racing to see who could knock wine off the top diner spot by matching cocktails with food.And I was there, racing to try it all.
So when I heard that The King's Ginger Liqueur and China Tang at the Dorchester were teaming up to combine the uniquely British pastime of a traditional afternoon tea with our nation's penchant for a stiff drink I didn't need much convincing to check it out.
The King's Ginger has the premium credentials of being the world's only high-strength ginger spirit and, made in 1903 for the gregarious monarch King Edward VII by macerating root ginger with lemon peel, it makes an understandable accompaniment for tea-based drinks. Which is exactly what head bar tender Luca C served up in a succession of gingery, heady cocktails using some of the finest tea leaves from China and matching them with some exquisite plates from the Asian influenced menu at the opulent China Tang.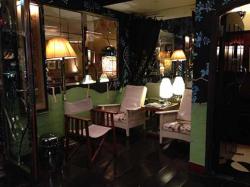 Surrounded by the dark wood, flock wallpaper and gold panelling of China Tang's bar I was offered delights like Her Majes-tea, a light negroni made with gin, The King's Ginger and sparkling oolong tea alongside a plate of delicately cooked tender black pepper squid; a plate of sticky Peking duck with a smoked margarita cut with kaffir lime, ginger and lapsang souchong and a steaming basket of bitter-sweet chocolate dumplings that arrived with a generous crystal tumbler of Royal Chai made with Appleton rum, chocolate bitters, lavender and obviously, a glug of The King's Ginger.
If I'm honest, the accolades for the drinks were flowing quite freely by the end as is the intrinsic problem matching cocktails with food: after the third you'll be too inebriated to tell the difference between the good the bad and the ugly anyway. However, if you're looking for a satisfyingly different festive drink then you can't go wrong with a palate challenging glass from The King's Ginger and The Dorchester.
My pick was the spicy, smoky Edward's Margarita, but you can make your own choice by visiting China Tang as The King's Ginger Afternoon-Tea cocktails are now available and on the menu. Or you can try and make your own using the recipes below.
Her Majes-tea (tea cups)
35ml Colonel Fox's Gin
25ml The King's Ginger
20 ml Suze
Carbonated oloong tea
Stir with ice and strain into Chinese teacup. Top up with carbonated tea.
Edward's Margarita
45 ml Ocho tequila infused with Lapsang Tea
15ml  TheKing's Ginger
15 ml Fresh lime juice
10 ml Agave syrup
Garnish with kaffir lime leaf
Royal Chai
35 ml Appleton rum
35 ml The King's Ginger
10 ml Chai tea syrup
5 Drops of Chocolate Bitters
Sprayed lavender bitters
Garnish with dried orange and sprig of lavender