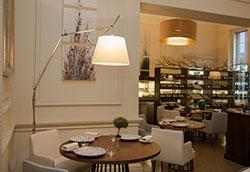 If you'd have asked me a month ago to tell you what I knew of Michelin stars, a few things would instantly have sprung to mind. Firstly, they're awards dished out by, of all institutions, a French tyre company. Secondly, how deserving the restaurant in question is of Michelin stars, and of exactly how many, will be a matter of endless controversy, heated argument, and bitter social media-fuelled debate. Thirdly and finally, dining at such establishments isn't light on the wallet.
All of that, of course, was put to one side when I was given the chance to pop my Michelin star cherry at Texture restaurant in Marble Arch and sample some of the finest food the capital has to offer.
Texture was founded by the then relatively-unknown Icelandic chef Agnar Sverrisson and master sommelier Xavier Rousset, with a focus on modern European dining. Sverrisson added Icelandic influences, which led to critical acclaim and a Michelin star in 2010.
Before you even taste the food, you know you're in for an experience beyond that of your average high-street restaurant. The location, a converted Georgian townhouse a block away from Oxford Street, avoids the crowds and gives Texture an intimate, relaxed feeling. The restaurant is housed in one room, with a champagne bar at the front with the restaurant taking up the majority of the space behind.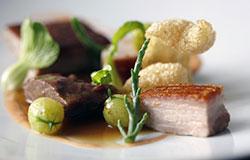 It's a grand old room, vast and high-ceilinged, with white stucco walls that splashes of modern art save from monotony. Comfortable, modern furniture and low-lighting strike the perfect balance between old and new. The size is perfect – it feels personal and homely. Texture has the nicest decor out of any restaurant I visited last year.
Before the food arrives, a snack of deep-fried cod skins is served. It sounds odd, but deep-frying turns them into lovely puffy, flaky crisps. Presented beautifully, little spikes exploding out of the bowl, they're very nice indeed.
We're also given warm bread which is served with two different varieties of olive oil – one from Northern, and one from Southern, Spain. The olive oil is a showstopper. I've never tasted anything like it and didn't even realise that olive oil got that good; it simply melts in the mouth and leaves a lovely cut grass aroma on the throat once it's swallowed. I'm tempted to just ask for more bread and eat that all throughout the afternoon.
A starter of fallow venison tartare with cranberries, sorrel and parsnip is delicious, with the tartare moulded into mounds and scattered with the cranberries and tiny shallot rings, so that each mouthful gives a precise dose of all the flavours and textures. The sorrel and parsnip are in liquid form on the side and serve as a lovely accompaniment. N also enjoys his new season English beetroots with goat's cheese, snow and pistachios.
It's the main, however, that utterly blows me away. Icelandic cod, which I suspect was cooked sous-vide and finished off in a pan, in a coconut sauce, with strips of coconut and bits of deep fried greens on the side is utter heaven. The fish is golden brown on the outside and has sublime 'texture'. The sauce is a perfect mingling of flavours, light and delicate. N's English suckling pork belly with a celeriac choucroute, quince and pork jus also garnered high praise, with the crackling being so crispy that a piece shot out from under N's knife onto the floor; a shame, as he was looking forward to eating it all.
A rice pudding with clementines and cinnamon is a fitting ending. It's certainly a world away from what you might have had at school dinners, with the clementines being cooked just enough to fall apart as you slice into them, and the cinnamon adding a lovely warmth. Valrhona white chocolate mousse with ice cream, dill and cucumber for N sounds like an odd combination but judging by the speed with which it's swept off his plate it works.
That this was an amazing meal goes without saying – I expected as much from a Michelin starred establishment. What I didn't expect was the price – £26.90 for three courses at this level is simply astonishing; you can pay more than that at a chain restaurant.
Yes, the wine will add significantly to the price. Yes, the tasting menu is more expensive than the three-course lunch. Yes, it's only this cheap at lunch, and far more expensive at dinner. But come on, under thirty quid for such a sublime meal in such sumptuous surroundings, with superlative service and wonderful wines matched to the food? This has probably got to be the best fine dining bargain in all of London.
And so I must rethink my previously held opinions of Michelin starred dining. It may be an award dished out by a tyre company, it may cause endless debate and controversy, but one thing is doesn't have to be is expensive. Treat yourself to lunch at Texture and find out.