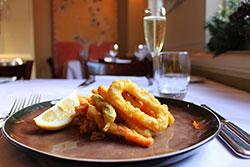 Like the idea of street food but wish it would appeal to a demographic beyond the young and trendy? Then Street Food Sundays at Caffe Caldesi in Marylebone might just be the ticket.
On every Sunday starting from this Sunday 12th up to Sunday 2nd February, Caffe Caldesi will be showcasing regional street food from Naples, Puglia, Emilia-Romagna and Venice. The focus is on healthy, fast street food, made from high-quality ingredients with regional specialty produce.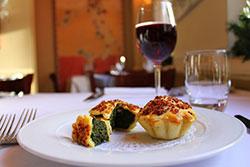 To complement the food, wines by the glass will be matched from the appropriate region. Dishes include Amalfitana meatballs studded with pine nuts and sultanas baked in tomato sauce, baked aubergine layered with Pecorino cheese and tomato sauce, pork ribs drizzled with Modena balsamic vinegar and tiramisu made with freshly ground espresso.
It looks to be street food with a grown-up twist and we look forward to trying it out. Check out our Twitter feed this Sunday for a glimpse.
Caffe Caldesi, 118 Marylebone Lane, London W1U 2QF