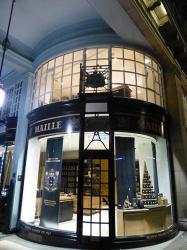 When I was growing up mustard only came in a tin of powder that you mixed with water in one of mum's eggcups. This created a thickish paste so vehemently yellow you needed sunglasses to look at it.  Eating even a small drop made my eyes stream and brought on a paroxysmal coughing fit that usually forced me to leave the room. So you can take it that I wasn't exactly a fan.
Getting older, and going to 70s steakhouses with my parents, I was amazed to be offered a mustard choice; French or English. I grew to love the French kind, and particularly Dijon mustard, and later on trips to France discovered the granular delights of Moutarde De Meaux, a mustard so special I'd smuggle a jar back in my suitcase after every French exchange, much to the bemusement of my French hosts.
Well times change  and at the La Maison Maille Boutique in Piccadilly there are no less than forty one permutations of mustard now on offer. Yes forty one. Hearing of this I hot footed it (sic) to take an amazed look and to try as many as my digestion would allow.
It wasn't all yellow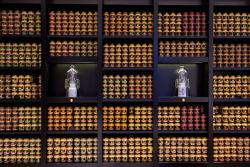 This is the only Maille boutique in the country, the flagship being of course the one in Paris with another, unsurprisingly, in Dijon. It's glossy and smart and glancing in you might think it was some kind of fancy chocolate or tea shop, the displays are so crisp and colourful. Downstairs the shelves are lined with mustards, as well as Maille's other products of oils, vinegars, salad dressings, pickles and accessories.
Upstairs is the tasting room and here under the expert tutelage of the French assistants you can sample any of the mustards on offer. Very few of these mustards are available even in French shops, and even less here in the UK. But the good news is that all the Maille Mustards are available online. Armed with a basket of small croutons to place a blob on, I began to taste.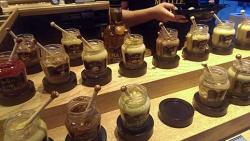 Of course I couldn't taste them all, but my guide chose well offering all kind of contrasts and comparisons. The styles were often surprising: Dill and Lime; Parmesan Cheese and Basil; Mangoes and Thai Spice; Shallots, Chervil and Chanterelle Mushrooms.
Whatever combination you can think of, the Maille mustard mixers have probably experimented with it. I must have tried around twelve and was still only at the tip of the Maille mustardberg.
Each certainly set the taste buds tingling and some I liked more than others, with the proviso that each would taste differently when combined with food. It's not exactly normal or recommended to eat mustard neat, after all.
Pump it up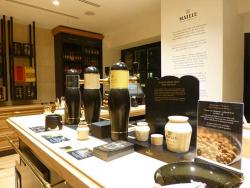 Next it was over to the mustard pumps where the mustard is delivered fresh to classic little stone jars and sealed with a date label. Mustard with Chablis was gorgeous; smooth, aromatic and with a medium to high heat. Grainy Mustard with Chardonnay was mild in heat and texturally exciting with a mix of selected whole and halved mustard seeds that popped to the bite.
Then as a special treat Mustard with Chablis White Wine and Black Truffle which was rather stunning, as you might expect, and at £29 for a 125g jar not madly expensive either. This mustard is a limited edition but should still be in stock for a few months. Incidentally if you bring the stone jars back for a refill, the price of any of the pumped mustards falls to around half.
Acid reign
Now reeling slightly from a mustard overload I was persuaded to try some vinegars to further stir up my stomach and of all the ones I sipped my favourite was Sherry Vinegar with Sundried Tomatoes, but faced with a choice of around twelve including Blend Of Vinegar and Fig Purée and Aceto Balsamico Di Modena (Igp) Balsamic Vinegar with Bitter Orange Peel it wasn't easy to decide.
The Maille Boutique really is a candy shop for savoury toothed adults looking to experiment and it's located handily next to Fortnum's & Masons too, if you have a desire for products approved by HM Queen. And for everyone not within easy reach, the online Maille store is perfect.
Now to go find some sausages to spread my Maille mustard on.
Try some Maille recipes right here. Tuna Skewers with Maille Sundried Tomato and Espelette Chilli Mustard
Maille Beetroot and Mozzarella Salad
Balsamic Vinegar and Strawberry Soufflé with Maille Mustard and Lemon Ice Cream
Maille London
2, Piccadilly Arcade, London, SW1Y 6NH
Monday to Wednesday from 10h to 19h.
Thursday & Friday from 10h to 20h.
Saturday from 9:30h to 18:30h.
Sunday from 11h to 17h.