63 Petersham Road, Richmond Upon Thames, Surrey. TW10 6UT www.thebingham.co.uk/

By the time you read this there may something on the TV news other than reporters wading about earnestly as another OAP and her cat is boated to safety behind them.
The great floods will be but a memory one day, but as I watched the Thames rushing past like an express train from the calm comfort of the Bingham's dining room last week, it seemed we were all doomed. Time to get lined up two by two and await further instructions.
There are a lot worse places to prepare for eternity. The Bingham 'a restaurant with rooms' was once someone's lovely Georgian townhouse and the feeling has not been lost. To the right of the front door is a comfortable bar with an open fire and to the left is the compact dining room, both with views onto the river a hundred yards away. Even with rain pelting the windows like grapeshot it's a better view than you'll get from most dining rooms in London.
And you won't get a better lunchtime deal – £15 for the three course Market Lunch is a belter of an offer and one hard to refuse. Head Chef is Mark Jarvis and he learned his craft at Michelin-starred Texture in Marylebone and at Blanc's two Michelin-starred Le Manoir aux Quat-Saisons. It shows in the clean presentation and focus on flavours and not on trends.
A simple risotto starter shot through with headily smoky ham and topped with a perfectly cooked egg, was just the sort of dish you need when you come in from the rain. The Arborio rice was of course cooked perfectly and the egg once broken cascaded down into it in a way that made the dish sloppy in a very good way. The creative director eating it said he would have preferred a white plate to a black one though. The food was'reversed out', as designers say about white type on a black background.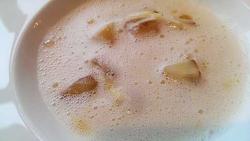 Feeling the chill I also went for comfort and easy eating. Artichoke soup, made with pickled artichoke and curry oil, had a slick surface of droplets and deeply flavoured stock, but to my mind the artichoke cubes were a bit too toothsome, even hard. This wasn't a fatal error though and I still was happy to tip the bowl and get the last drops up.
Some people won't eat chicken in a restaurant and many smart chefs won't cook it, regarding it as too easy and uninteresting.  It's true that the Colonel's military takeover of the area of eating best described as'not middle class' has rather knocked chicken of any perch it might have once had, and the average chicken is a terrible thing that's led a terrible life.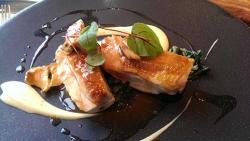 Label Anglais chicken is different and very similar in quality to a Poulet de Bresse, although based on the Cornish Red breed. This is quite superb chicken, the meat moist and packed with flavour and with a skin I am still salivating over a week later. Laid on top of seasonal swiss chard, both leaf and stem, with a puree of celeriac and some forest mushrooms it really was proper plateful.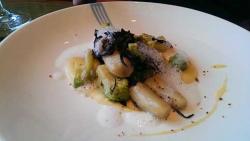 Roast garlic gnocchi romanesco, trompettes was a rather light dish and could perhaps have been a little punchier in the flavours, but then roasting garlic does temper the alium. The trompettes were trompettes du mort, an unfortunate name for a mushroom but it refers to their colour not any side effects.  The gnocchi were light, not always the case with gnocchi which can sit heavily on the stomach and there was a bit of foam as a nod to fine dining. A smart dish and dare one say ideal for ladies who lunch.
Lychee parfait passion fruit, grapefruit was beautifully plated and, despite the weather outside, actually came across as fresh and summery, while peanut mousse, caramel, peanut ice cream was another pretty picture but obviously not a dish to serve an allergy sufferer, unless you were looking for a bit of cabaret over the coffee.
Portions were not large, fair enough at that price and for lunch, but there was no holding back on the technique, classy service or attention to detail. Assuming that the Bingham hasn't now disappeared beneath the flood waters you should get there while this bargain deal lasts.
Monday to Saturday 12.00-2.30pm (excluding bank holidays ).