489 Liverpool Road (the Highbury Corner end), London N7. www.morganm.com | tel: 020 7609 3560
Spring is still in the air at Morgan M, the fine dining restaurant in Islington and the eponymous Monsieur M has generously invited us round to sample the Spring Menu, just as it is about to end. It has to be done at lunch though; the restaurant is far too popular with the well-heeled locals to be able to sacrifice an otherwise productive table in the evening.
I last came here some four years ago to interview Morgan. At that time this converted boozer was a bit more sombrely lit and furnished, and dare I say it, a tad pretentious. Now it seems brighter, less daunting and more fun with Morgan's own jolly paintings hanging on the walls. Some of the posher trappings do still exist though; beautiful, meticulous presentation of all dishes, aided by designer cutlery and custom crockery plus wait staff impeccably turned out and I like that. Some might say it's snobbish but in a top drawer place I don't want to be served by untidy staff. Nor, it has to be said, do I really want the customers, whatever their wealth, to be wearing jeans. No worries here, the party sat near us seem to be dressed for a wedding, all ivory dresses and bare shoulders.
Morgan loves seasonal and while every chef these days is like an Action Man doll – pull their string and they recite Local. Seasonal. Sustainable. in bored monotones, he was well into it years back. The tasting menu is always a celebration of all good things available. While the whole table has to have it all, or none at all, there is still choice within it. Everyone gets the Chilled Cream of Broad Bean with Horseradish Foam, a vibrant green soup with the odd jewel of a whole broad bean drifting through like a U-Boat. It has a good mealy texture and earthy flavour, the beans having been slipped out of their grey outer coats back in the kitchen. The foam actually isn't foam at all but a stiff Mr Whippy concoction that threatens to be too rich but is actually well balanced out by the horseradish's subtle fire.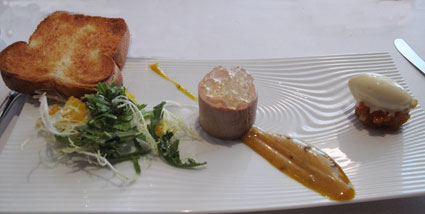 A Ballotine of La Landes foie gras with warm Brioche is, as foie gras always tends to be, delicious. This sample is quite fridge-firm requiring a bit of solid knife work and the attendant risk of embarrassing slip and skid, but it is very high quality. The unusual, but naggingly, familiar flavour of one of the accompaniments suddenly clicks- curry powder! The French, while never embracing Indian food, have a soft spot for curry powder and it is actually rather effective and stirs up memories of Mum's early multi-cultural cooking efforts. Best of to be honest rather a surfeit of supporting players though is the light tangle of peppery salad leaves, lightly dressed, that sits on the side. Their delicacy is just what the foie gras needs to balance it. Those with an aversion to foie gras can choose instead lightly seared Yellow Fin tuna with a Provencal vegetables, tapenade, red pepper and basil sorbet. I didn't try any but could see the tuna was, as advertised, perfectly cooked and it looked excellent.
A small dish of seared John Dory with braised cuttlefish, barigoule vegetables (no I am not sure what that means either as there are conflicting definitions), and a buttery saffron sauce is just the right portion size. The fish has a well-sizzled skin and the cuttlefish is tender and crosshatched to keep it flat. The most enjoyable bit, for me, is the cylinder of new potato underneath that has happily absorbed all the various lovely juices into itself.
The table splits again for mains proper with a Ragout of French rabbit with mustard, the rabbit saddle roasted separately with black olives, some teeny steamed gnocchi and courgettes and a drop of wild garlic froth. The ragout is textured like rillette pate, slow-cooked, fibrous and deeply, deeply flavoured, while the saddle is delicate, contrasting, firm meat. The turned courgettes look like a right fiddle to prepare, but they are undoubtedly elegant and fresh tasting. It's a very good dish indeed.
The duck followed a similar pattern, the breast roasted off and the leg braised and turned into stuffing with some Jerusalem artichoke and a red wine jus. I liked the way staff quietly produced a cloche to keep it warm when it arrived at table as its owner had gone off to the bathroom. It's the little touches isn't it?
A pre dessert of vanilla rice pudding was a schoolboy pleaser so it pleased me. I love rice pudding; I even love the skin, and then a choice of desserts. An excellent raspberry soufflé evenly risen all the way around and a good height, cut at table to allow lots of raspberry coulis to be poured in. A dark chocolate Mouelleux (choose your coca solid percentage) with a milk sorbet and an Armagnac drink was equally assured.
Phew. And through it all wines by the glass that would take too long to detail but which all seemed to hit the spot – some contrasting, some complimenting.
Morgan M has kept true to form in Islington, offering fine dining outside Zone 1 and doing it quietly and consistently. An unsung hero, except by himself, he deserves his success built as it is on quality and flair. Bien fait, Morgan.
Enjoy a special priced menu at Morgan M all through June. More details here