Nonna's Restaurant,535-541 Ecclesall Road, Sheffield,S11 8PR,www.nonnas.co.uk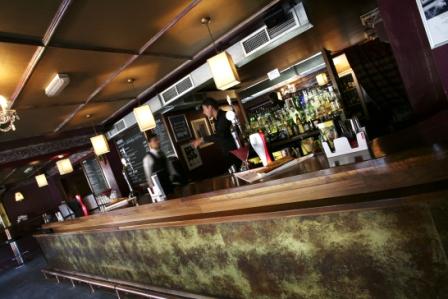 For all the fine dining I literally tuck under my belt, I am never happier, truly deeply happier, than when sat in front of a bowl of pasta. In fact I have to check around to see if people aren't being disturbed by the sound of a man purring.
The Italians know what food is for – it's for lunch – a meal that can often stretch on until it becomes dinner. The best Italian food is found, unsurprisingly in Italy, but in about the same time it takes for a budget airline to deposit you cantankerous and queasy from your in-flight 'snack' at Pisa airport you could be at Nonna's in Sheffield.
'It's actually one of the better parts of town,' my pal tells me as we sit down for lunch. She went to university in Sheffield and once had a flat around the corner from Nonna's. 'Just go a few minutes up the road and you're out into the countryside and the really nice houses,' she explains. I can believe her because although Nonna's is located on a busy road in a terrace of shops, a terrace that it is slowly but surely expanding into, it has a lunchtime clientele of ladies who clearly don't have to worry about 'lunch hours'. Outside can be seen a variety of the nice sports cars such women award themselves.
I can also see men dining alone and that's a good sign. They don't look worried or sad; they have a paper in one hand and a forkful of pasta in the other, plus a big glass of red wine to wash it down. At the bar people are popping in to drink coffee the Italian way – i.e. standing up and quickly. Manager Daniel seems to know every customer and it seems almost no one enters or leaves without a wave or a handshake. Which of course is just how it should be.
It's over ten years, since co owners Gian Bohan and Maurizio Mori, inspired by memories of Italian grandparents bringing over a car full of the finest local produce each year, created Nonna's. Since then it has become something of an institution. Once the food starts to arrive, you can see why. Steamed vongole (clams) are as sweet as nuts, semi-submerged in a chilli and lemon butter broth that you want to take a straw to or, failing that, to pick up and tip down your throat and to hell with the dry cleaning bill. My Sheffield chum picks delicately at her salad of panzanella, fresh buffalo mozzarella with its tracings of golden basil oil trickled over. It's a ladies' lunch dish, packed with flavour, but not brutishly calorific, and elegant to look at.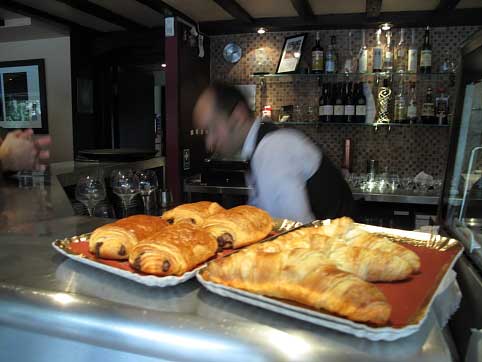 The same can't be said of her lasagne, but lasagne is never going to win any beauty prizes, although a nicely crusted and browned top with the sauce bubbling volcanically always makes my heart beat a little faster. This is the famous original grandma recipe but with 'Yorkshire portions!' cries my friend, looking aghast at the size of it , all packed out with pork and beef. 'I'll help you later,' I try to say, but it's difficult when you have your head in your bowl snuffling up perfectly cooked tagliatelle – soft at the edges, just al dente in the middle – covered in a spicy slow cooked (eight hours) deeply-flavoured sausage meat sauce. This has the spark of chilli the Italians like so much that many keep dried chillies in their pockets to season their restaurant food. It's seriously good stuff and my appetite, built up from the two hour trip from St Pancras aboard a very efficient East Midlands train, is enjoying every twisted forkful.
My chum is driving (me about) so I'm on my own with the wine, which like so much of Nonna's produce is sourced by the two brothers on their regular trips to Tuscany. A Brace Realer di Carmignanano that makes me wonder why I don't drink more Italian wine.
Nonna's has its own deli around the corner where its food fans can pick up take home portions of their favourites. This deli also supplies the cheeses and I get a great selection that has the right mixture of delicate and piquante, hard and soft. All this comes with the carta de musica biscuits that always partner cheese so well, plus fine chutney and honey, all followed by an excellent large espresso and a quality grappa to top it off.
If you live in Sheffield and like your food it's probably pointless to tell you about Nonna's, you'll already be a regular. Italian food needs an ambassador if it's to beat the pesky Spanish and their award-winning food for nerds. Nonna's can take on the job with ease.
Nonna's will be opening a second restaurant in Chesterfield soon and their excellent book – part memoir, part supplier guide and part cookery book is well worth hunting down. We visited Nonna's with help from www.yorkshiresouth.com