OXO Tower Wharf ,Barge House Street, South Bank London SE1 9PH www.harveynichols.com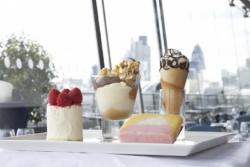 The opportunity to review Not Afternoon Tea at the OXO Tower Brasserie was something I was looking forward to. It's a new menu which offers four tasting dessert plates each paired with a matching cocktail. I love desserts, like the OXO Tower and am partial to the odd cocktail. Occupation and personality wise, we were a perfect match.
I decided to take my brother along. He eats out at least three times a week so I thought he'd be able to enlighten me with his erudite opinions of the food.
Upon arrivial we were given the 'sitting in or out' choice. It wasn't sunny but it was warm outside, even by the river so I tipped my head to the right to see how the hairstyle's of the women who were outside were coping in the wind and they looked fine, so we went with the terrace.
Once outside it was easy to see that the views make up a massive part of the appeal of the OXO Tower as an eating destination. This was when I suddenly realised that my decision to sit terrace-side had been heavily influenced by the opening sequence of Sherlock which was on TV the night before. I don't know about you, but when I see London like that on a screen it makes me appreciate where I live. I reckon New Yorkers probably had a similar feeling when Seinfeld was first on.
Seating choice made we were led to our table and our orders were promptly taken. I decided on the Tea and Coffee themed selection whilst my brother went for Light and Fruity. During the unavoidable lull between ordering and receiving our food my brother became obsessed with pigeons.
He was intrigued by the thin wires running along the edge of the terrace and said like an ornithology expert, "Those are probably to stop the birds from grabbing the food." Being the non-pigeon expert I am I replied "Well they're not going to have an electric bird fence next to the tables, are they?! What if you were eating with your kids and a pigeon flew into it and died in front of you."
"No it wouldn't kill them. Just scare them off a bit." Lovely, I thought to myself. This debate went on until the food arrived.
The red bush tea mousse was served as an upright sort of tower, with a concave top that held a sweet syrup and as I prodded my fork into it the syrup flooded down the sides of the mousse and formed a messy pool on the plate almost instantly. It was bordering on obscene. In a good way. In a revelrous corruptively tantalising good way.
The green tea granita with mango compote was less sexually suggestive but impressive in an understated manner. Refreshing, clean and pure with it's fruity mango nuggets hidden at the bottom each tiny spoonful was a lucky dip.
The Earl grey tea parfait looked incredible; It was like an edible caramel witches hat covered in intricate chocolate henna. Yes, I am aware that may just sound odd and not at all incredible but honestly it was, I promise. The flavour of the parfait was essentially sugary creaminess and hey what's not to like about that? There was also an unexpected ginger snap base which was a bonus that meant the tastes and textures created a perfect contrast.
Next was the coffee and walnut cake with Kuala jelly which wasn't really a cake and the coffee was strangely absent, but it was good none the less. The rubbery Kuala jelly filling, which was just a disk slotted between the two pieces of 'cake' mixture was a bit odd, although to be fair I don't really like Kuala so it was never going to be my favourite component. The 'cake' part was floury and had an oaty wholesomeness to it that covered me in a warm sense of comfort.
A lot of effort had clearly gone into the pairing of each cocktail with the dessert so I was impressed by that. Often times, as Barack Obama would say, it seems like restaurants pair food and drink together as an afterthought but it felt like an intrinsic part of the menu here. The cocktails did what they're meant to; enhanced the flavours of the food.
The cocktail that came with my Tea and Coffee dessert was called Tea for Grownups and was a mixture of Beefeater 24 Gin and Aperol, sweetened with camomile, honey and peach and topped up with Harvey Nichols champagne. My cocktail was strong, which is by no means a bad thing. I figure if you're buying a cocktail when you're out, you want bang for your buck. Otherwise just order a spritzer, you lightweight.
Deserts and cocktails fully consumed, we got up to leave. Then, low and behold, what occurs?
"Look, look, I told you there would be a pigeon problem here" my brother pipes up. I turned around to see the French head waiter, with his immaculate and beautifully tailored suit, waving his long limbs around trying to usher the pigeon promptly off the terrace whilst keeping the serene up-market atmosphere of the dining room and terrace in tact. It was a two man job though and the younger waiter with his US Navy style crew cut hair had to rush over to lend assistance. Eventually the pigeon flew off and the two waiters went their separate ways as if nothing had happened.
Personally, I'd definitely recommend a trip to the OXO Tower Brasserie for Not Afternoon Tea because it's a pleasure-filled, civilised way to enjoy London and a real treat for the not so bank-breaking price of £19.50 each. My advice is forget the cucumber sandwiches and get one of the OXO Tower's cocktails down your neck!