With its unique London location, Osteria offers a great view on top of its carefully considered Italian menu.

It was only after encountering our third dead end full of crashed wheelie bins, that we finally realised Barbican Tube is no way to get to the Barbican Centre. It's only good for the Barbican Estate, a different kettle of concrete brutalism.

The Barbican Centre is more easily reached from Moorgate tube station, the grand entrance is then very easy to find. We had to ask a few people the way once inside, but eventually ended up in Osteria on the second floor overlooking the lake, the fountain and the ruins of a church.

There's a good view of the London School of Girls too, which sounds a bit pervy but I'm only mentioning it.

Inside the decor stays true to the spirit of the Barbican ethos. Built between 1965 and 1976 on a World War II bombsite, the Grade II listed Centre and the surrounding residential estate used up a lot of concrete in a no nonsense way, but Osteria's decor is warm and welcoming, as are the staff.

We sit by the massive windows which can be completely opened in the summer, and check out a short and sweet menu, which on this date, December 12, is skewed slightly toward the festive.

Osteria is operated by Searcys which is always a guarantee of quality in an upmarket mass market way, as well as of good value. Here on the set lunch we find one course is 19.00, two courses 25.00 and three courses 29.50. Being an Italian restaurant there are four courses on offer.

I can't eat Italian without trying the pasta so I swerve the Antipasti and go for a non mains sized dish of pappardelle pasta, braised venison, pecorino cheese and toasted hazelnuts.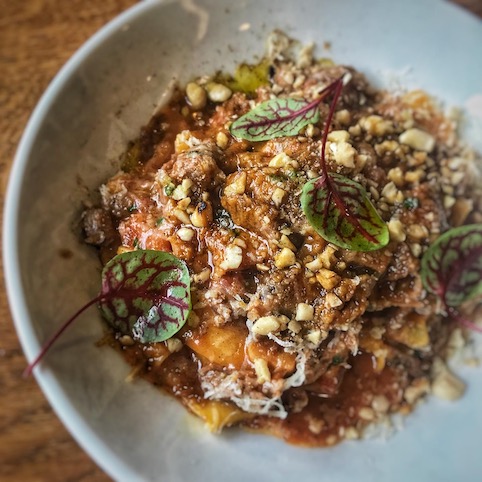 Smaller than regular mains it might be, but it's still a hearty plateful. That meat is beautifully slow cooked and in irregular chunks, which I always like. The sauce has a sweetness you only get from fresh tomatoes, not tinned, and the hazelnuts are a good idea, the crunch offsetting the slippery al dente pappardelle. Baby chard leaves give it a light fresh look. Top stuff.

S is only on fish these days, so he has the antipasti of Pan fried sardines, Jerusalem artichoke, pickled cucumber, sea herbs, sorrel. A remarkably pretty plateful with the gentle acidity of the pickled cucumber (please don't call it a gherkin) working well with the crisp salinity of the sea herbs. Elegant looking, too.

Sommelier's pick of Pala, Silenzi, Vermentino, Isola dei Nuraghi, 2018 is spot on; properly chilled and with a dry minerality that works with everything.

It works with my main of porchetta, cauliflower puree, red currants and flaked almonds. The redcurrants give this a festive air, but it's really a dish for any day of the year. Again, it has lots of colour to make it more visually appealing than Italian dishes usually are, a dusting of petals and some purple and white Romanesco broccoli.
Also, along for the ride are what look like clam shells but aren't, and small puffs of 'pork scratchings' which are a bit tough on the teeth, The pork itself though is perfect with unctuous coils of quality fat and I scrape the plate for pick up any rich sauce that's left over.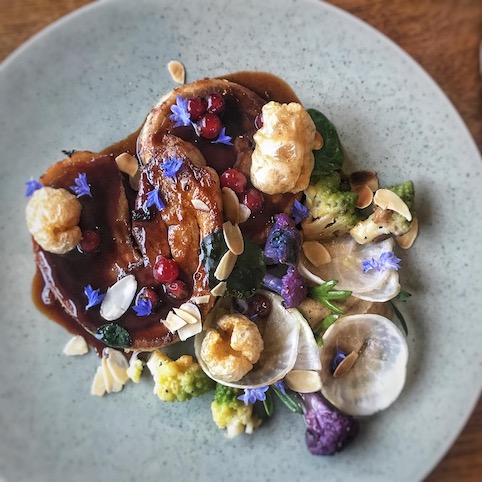 Still swimming in the fish section, for S it's Pan fried Chalk Stream trout, potato rösti, courgettes, mussels, fennel cream. Another elegant plateful with the trout a bigger piece than expected. The courgettes are cut to ribbons, a far nicer idea than slices or cubes, and the aniseed of the fennel pairs well with a fish that's cooked just firm enough. Another winner dish.

We end with a plate of well-curated Italian cheeses (£6 supplement) and a tiramisu served as a block and not in a glass. It's fine, it's not boozy enough but then it never is for me. I like a tiramisu that can get you banned from driving.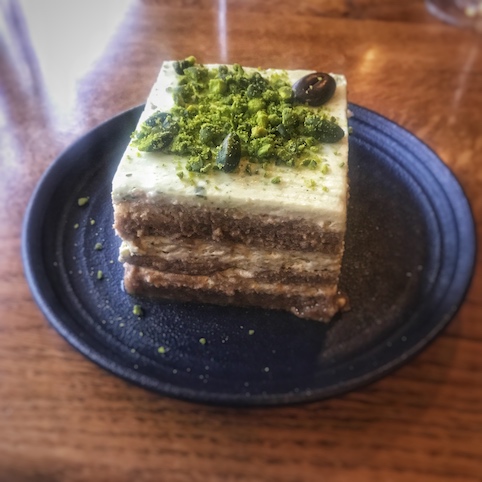 Most people probably won't contemplate Osteria unless going to the Barbican Center for something else, and it certainly is a great choice for a pre-event meal.

That's a shame as it is a very worthwhile, good value, destination in itself so do go anytime. Just watch out for the wheelie bins.