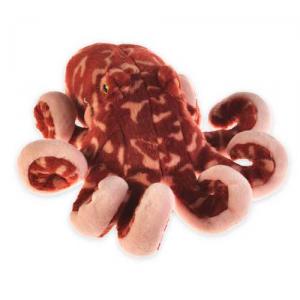 The octopus, or cephalopod as we naturalists know it, is as blue-blooded as our royal family although the latter have fewer arms despite all the inbreeding. When born an octopus is no bigger than a flea and the ones on my plate here at Polpo are not much bigger than my little finger. Hello little baby octopus. Coochy-coo.
Moscardini, as they are properly called, are a delicacy. Cleaned by someone presumably kitted out with a magnifying glass, a toothpick and infinite patience, they are cooked whole so that they come to the plate dressed in oil looking perky and alive, little scale models of their mums and dads. It feels a little bit 'wrong' to eat them, but they taste very much all right.
It's doubtful any other London restaurant has them on the menu, like most of the food at Polpo, it's a bit different. You'll look in vain for the phallic pepper mill so beloved of old skool Italian restaurants. Instead there is a mist of cool suffusing everything at Polpo, from the Hoxton-y waiting staff to the bare brick walls and functional tables.
This cool was a bit of a drag when Polpo first opened as it manifested itself in a no-reservation policy. This kept the bar busy but kept me out – I like to eat when I'm hungry, not wait irritably for laggards to leave a table free. That initial surge of train-spotting interest has now died down and the restaurant is running normally, so it's possible to book, at least it is at lunchtimes. Hooray.
Polpo is a Bacaro by the way, a Venetian style of restaurant where you eat small plates of food (please don't call them tapas) plus cicheti, which is not a noisy scooter ridden by 60s film stars, but the generic name for Venetian bar snacks. Here the game is to try as many things as possible, so go with at least four people so that you can order with abandon and cheerfully fight over plates. Being only two at table ourselves, we barely touched the choice available.
Did we pick well? Mostly yes. Arancini, deep-fried balls of risotto, are classic Italian leftovers. Most mamas will make too much risotto deliberately so as to serve arancini the next day. The Rome versions have lumps of mozzarella inside them to form great long strings as you pull them apart. These could have done with something similar as they were a little bland. For bar snacks they would have been great, as table food they were dull.
With a small carafe of gutsy Northern Italian red wine to hand we tore lumps off a much more interesting Piazzeta Bianca, an impossibly thin pizza as ragged as a window cleaner's chamois and rich with melted onion. Order two of these is my advice, they're that good. Excellent grilled flank steak with white truffle cream sliced onto a 'bed' of rocket was cooked just as it should be; a rich red vein of rareness running through it as tender as a bruised ego.
Cuttlefish risotto cooked in its ink was as black as the cover for Spinal Tap's album, how much more black could it be? The ink stained everything irrevocably, including our fingers and any clothing it came into contact with, but it added a distinct if indefinable flavour to cuttlefish sensitively cooked – that slight initial resistance to the teeth giving way to the texture of chilled butter.
Runner beans chunked, not sliced, were a little on the large side. They are glutting now in English gardens and there's no real need to eat the ones that are beginning to bulge suggestively. With red onions and shaved Pecorino, these crunchy beans still managed to feel both rustic and delicate Part of your five a day you wouldn't mind eating every day.
I suppose I should have known better than to have Cantuccini e vin santo for dessert. I can't recall ever having liked this dessert; perhaps it was the lure of the spirit that once again seduced me. Cantuccini are a Tuscan biscuit made with almonds and they are as hard as Boolean physics. Dunking them in the vin santo helps soften 'em up, but not much. Best to just quickly eat the biscuit, check your fillings, and then drink the booze.
I like Polpo a lot better now it's got over the initial trendy phase and settled down to simply feeding people. This is the sort of place that only Soho can support, a post code where dodgy expenses are still signed off and the locals more mature and less fickle than out East. You need eight arms yourself to tackle all the dishes as they pile onto your small table, and you won't want to discuss your latest ad campaign loudly while you've got your elbow in next door's plate, but you'll emerge with a Venetian spring in your step even if the only canal around is the Beak Street gutter.
p.s. I have not started taking pictures of my food, it's a stuffed toy.