I've never really ventured into the restaurant offerings clustered around the gleaming behemoth of New Broadcasting House. Its proximity to the seething crossroads that slice through Oxford Circus, and the bottleneck entry into Great Portland Street that's a short, irritated dash through the lingerers and malingerers outside Topshop, was always enough to tempt me towards the easy access joints that bubble up at an alarming rate in nearby Soho.
But when I was asked to review the six-course tasting menu at Picture – a place set up by three tastemakers who broke away from the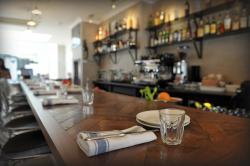 Arbutus and Wild Honey collective – my antenna perked up. With a menu that offers modern British cooking in small, specifically anti-sharing sized portions for private gobbling, there's definitely something different about this picture.
Picture has a surprisingly subtle character that's all its own, so subtle in fact, that (late as I was and doing an embarrassing, high heeled lady run down the street) I almost minced past the plain, warehouse gallery-esque front. Inside it's all refreshingly blank canvas too, with bare brick walls, unpretentious lighting and uncluttered lines of polished, wooden tables and raw-edged metal chairs.
Honestly, I was expecting something a little more overtly hipster, or perhaps a bit flashier and more in tune with the pocket square toting TV pundits and producers that must swarm to the area on business breaks and long lunches.
The tasting menu is pleasingly clean too, with a flavour base that's pure Brit (albeit a Brit who's been on holiday recently) from the light as a feather squash veloute that lit up my palate with a fiery aftertaste of roasted cumin and a blast of sharp creme fraiche, to the impeccably made chocolate mousse with peanut butter cream, which rounded the meal off with a silken, coco rich punch; its dark edge scythed off by the fluffy, not-too-sweet peanut cream cloud that sat alongside it.
In between there was a delicate square of crisped pork cheek – whose rather disappointing, mealy dryness was offset just enough by its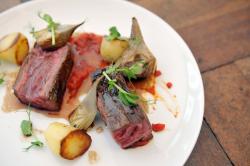 autumnal medley of braised celery, apples and hazelnuts – and a soft hunk of 28 day aged beef that tasted curiously of bacon, but perfectly complimented its earthy accompaniments of iron-rich chard, salsify and sweet red onion.
There were two stand out dishes on this six courser that deserve special praise, however; the beautifully simple earthenware bowl of grilled tenderstem broccoli on glorious pillows of soft, mellow goat's curd and laced with the salty tang of tomatoes and capers, and the sea bream with lentils, fennel, turnip and dill, which will forever be one of the most perfectly cooked executed examples of fish cooking that I have had in London. When fish flakes at the first fork nudge and melts like warm butter on the tongue, it doesn't matter if it comes on a seabed's worth of oysters or naked and unadorned as the day it was caught, you just know that it can't be improved on.
It's rare that you finish a six-course meal and feel satisfied and free of the danger of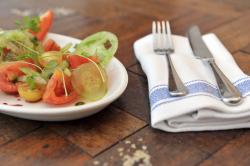 splitting your jeans as you lever yourself out of your seat, but the taster menu here is exactly that: well thought out samples of full dishes, most with just enough character to stand alone.
All in all, manager Tom Slegg and head chefs Alan Christie and Colin Kelly have got this venture in near-perfect focus and, with a pricetag of £35, the menu here has shaped up to be pretty as a picture, too.