Paul A. Young, Heal's 196 Tottenham Court Rd, London / 020 7636 1666 / www.heals.co.uk
"There are few hours in life more agreeable than the hour dedicated to the ceremony known as afternoon tea." – Henry James, The Portrait of a Lady
I don't think I will ever tire of afternoon tea. Especially when sugar wizards like master chocolatier Paul A. Young keep coming up with new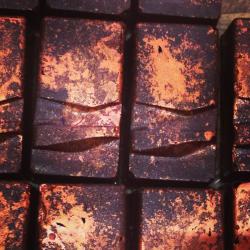 ways of increasing my risk of developing diabetes with seductive offerings like a salted caramel twist on the classic tea and scones combination.
It was buzzing with gleeful anticipation that I swooped down onto the tiny chocolate alcove of Paul A. Young's shop pop up on Tottenham Court Road. Sandwiched between the eye-wateringly expensive soft furnishings of Habitat and Heal's, it is an oasis of sugar. A narrow room that's filled to the rafters with trays, racks and piles of chocolate that glisten under the mellow lighting and exude a smell so potent and intoxicating it feels like you could bite it.
But although there are enough sweet treats and unusual truffles (Marmite ganache,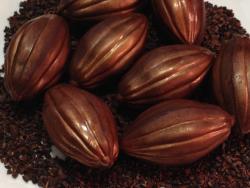 anyone?) to keep even the most dedicated of chocoholics busy, I'd come here for the tea. A very particular tea that featured one of Young's most delectable creations: his salted caramel spread. This spread is so thick and so insanely sweet with a curiously moorish, salty tang that it should, quite frankly, come with a warning label that reads'Caution, will probably cause addiction and, eventually, obesity.'
This sumptuous spread is served alongside a sea salt caramel truffle, espresso-sized cupfuls of clotted cream, huge geometric ceramic pots of loose leaf tea and a beautifully made, golden brown puff of a brown sugar scone, which was just sugar-free enough to carry that thick layer of fudgy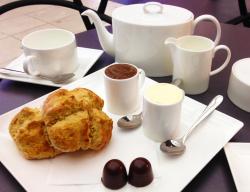 topping.
This is a brief afternoon tea – you won't find and finger sandwiches here or and delicate pastries – but, for a heart stoppingly good afternoon tea indulgence, you can't get a better sugar high that Paul A. Young's impossibly sinful offering.
When afternoon tea meets chocolate: five of the best sugar fixes ahead of National Chocolate Week from 13-19th October
Charlie and the Chocolate Factory at One Aldwych
This teatime treat might be inspired by the famous Roald Dahl children's classic, but the fare on offer is most definitely made for adult chocoholics. My picks are the golden chocolate egg, which arrives filled to the brim with vanilla cheesecake and mango and the light as air homemade candy floss.
£34.50 per person
This 5* hotel caters for the sweet of tooth with an opulent chocolate afternoon tea that reads like a sugar addicts idea of heaven: freshly baked chocolate chip and fruit peel scones, Chocolate and passion cream "financier", Caraibe chocolate and peanut tart and salted caramel, Chocolate ganache and milk chocolate Chantilly and coconut nougatine and Chocolate crème brulees infused with chilli.
£42 per person.
Chocolate Afternoon Tea at The Hilton London Green Park
Escape the city for a chocolate fix at The Hilton London Green Park hotel. Nestled in a cluster of Georgian buildings in the heart of Mayfair you'll find a tea that features luxury chocolate and walnut brownies, chocolate French fancies and white chocolate panna cotta alongside fancy sandwiches, scones and oodles of tea.
From £28 per person.
Chocolate Afternoon Tea at The Royal Park Hotel
Enjoy The Royal Park Hotel's limited edition chocolate afternoon tea throughout October, a heady mix of death by chocolate cake, chocolate and caramel shots, manjari and szechuan pepper chocolate macaroons and praline scones served with clotted cream, strawberry jam and nutella.
£25 per person.
Why not skip the scones altogether, drop the pretence and just tuck into pure, unadulterated desserts at master chocolatier William Curley's decadent Dessert Bar. Only available at the weekends, pudding aficionados can pull up a chair at the Belgravia boutique at indulge in a five-course dessert banquet.
From £25 per person, excluding alcoholic drinks.