Roussillon, 16 St Barnabas Street, London SW1W 8PB. roussilion.co.uk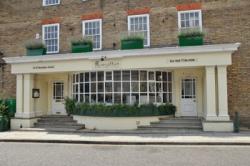 The constant refrain of dining in my youth was 'don't fill up on bread'. Seems fair enough. Restaurant bread is often a perfunctory aside, eaten out of boredom, not desire.The bread at Roussillon however holds a special place in my heart, providing me with that first 'oh' moment, a realisation of just how good food can taste.
It was the first Michelin star restaurant I had been to, taking a girl in an attempt to woo her. Our ensuing relationship was in no small part down to the quality of that bread. I considered Roussillon one of the better examples of dining in the city.
Yet that was under Alexis Gauthier, since decamped to the bright lights of Soho. With the arrival of new chef Shane Hughes has Roussillon retained its charm?
Located on an assuming side street off Pimlico road it is a classic neighbourhood restaurant. The room reflects the style of cooking; calm, unfussy and quietly luxurious. We opted for the a la carte, not feeling quite up to the endurance race a tasting menu offers.
An amuse of sesame prawn toast, was at odds with the rest of the food, seeming somewhat cheeky and playful. The bread was still one of great examples of the genre. Baked just before service, the wide selection included a brioche that was so light and airy it seemed in danger of floating off.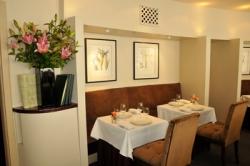 Our starters were foie gras with Sauternes jelly and beetroot, and langoustines and pig's head. The monolith of fois gras was a far cry from the miserly portions often encountered. The creamy sweetness of the beetroot accentuated. The circular potato crisp was verging on fiddly, but was rescued by the sheer size of the slab.
Pig's head and langoustine was surprisingly delicate, with thin slices of rolled pigs head enlivened by cherry vinegar, pumpkin oil and artichokes. It was as well balanced as a tightrope walker.
My main of beef tortellini, lobster claw, and truffle sauce was luxury piled upon luxury, a feeling only accentuated by the stout portion. I'd almost forgotten what it was like to get a substantial portion such is the rise of the small plate, small portion philosophy.
By contrast, duck leg braised in sherry, although tender, could have done with some contrast in terms of texture and colour. Autumn does bring with it a somewhat monochromatic palate.
Having somewhat over indulged on the bread, puddings were a struggle. A treacle tart was pronounced 'just light enough' by my friend whilst my raspberries poached in champagne provided a refreshing end to the meal.
Service throughout was exemplary. The maitre'd has been there since 2002 and is an asset to the restaurant, as was our waiter, who provided a welcome note of levity throughout the meal. For me the most telling moment came not from the food, but the other guests.
As they were leaving, the couple adjacent shyly informed the waiter that they had been last year, and vowed never to come again. They had been tempted back, and were impressed. They felt it had returned to its usual high standards and I would be tempted to agree.
Roussillon offers classic luxury. It's indulgent, and Shane Hughes clearly knows what he is doing. The question remains whether Roussillon can attract the younger crowd, dazzled as they are by burgers and pop ups. Yet it is pitched perfectly for the neighbourhood.
This is fine dining in the classic sense of the word. Not stuffy or pretentious, just well cooked luxury. After all who can say they don't enjoy stuffing themselves with lobster and fois gras every now and again?