39 Buckingham Palace Road, London SW1W 0PS www.rubenshotel.com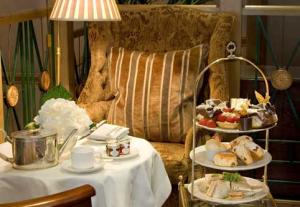 We're often told that the English invented Afternoon Tea. Back when dinner was taken rather later in the evening than it is now, us Brits couldn't last out without some kind of top up between lunch and 8 p.m. Many of us still can't, although evil bosses have pretty much outlawed the afternoon tea break so beloved of social realism films in the '60s.
Apparently it all actually started in 1651 and was really an import from Portugal, along with Charles II's wife Catherine of Braganca. She brought the practice with her, along with some nice bottles of Vinhos Verdes, no doubt.
Afternoon Tea as a concept has quite strict rules. It's normally taken at a posh hotel and consists of tea, obviously, and delicate sandwiches such as cucumber, egg and cress, ham, smoked salmon etc. Cakes and pastries to follow, maybe some scones and the whole lot served on a tiered stand by a smartly attired waiter.
So here we are at the Palace Lounge at The Rubens at The Palace Hotel in London softly encased in an armchair in the comfy, quietly luxurious room. There's a well-laid little table in front of us and a clear view of Buckingham Palace Royal Mews out the window. This has got to be tourist heaven and sure enough I can hear the twang of American accents around the room as they wonder aloud what in tarnation a Marmite Madeleine might be?
Good question. It's on the Royal Afternoon Tea menu but we're not having that, we're tucking in our napkins in readiness for the Rubens Afternoon Tea. Ordering is easy, just pick Royal or Standard, then choose your type of tea to go with it from an impressive range on offer.
Pastry Chef and Consultant Vincent Josse turns out spectacular little pastries, with sandwiches that are both simple and fine. Good too are the scones served with home-made strawberry preserve, and clotted cream and, to go with the Chocolate scones, chef's own recipe chocolate and hazelnut spread.
It really is most civilised and makes you rather proud to be British, after all who else could pull off this kind of thing with such aplomb? The Rubens does it very well indeed and with all the delicious cliches the meal demands. No doubt Heston B would stick the macaroons in dry ice and make the sandwiches out of deep fried tacos just to be different, but the whole point of afternoon tea is its immutability.
One of the better places to take Tea and something different to the norm with its attractive big windows and interesting view The Rubens takes great care in its afternoon tea offering and the price reflects the fact that Mr Kipling does not make an appearance on the cake stand.
Oh and there's a selection of fine champagnes too, if you really want to push the boat out. It's so nice to let the world go by while you slip further down into your armchair, a remnant of a jammy scone on your smiling lips and a lap cheerfully awash with crumbs.
The Rubens Afternoon Tea at £23 per person includes French pastries, a chocolate scone with chocolate chips, featherlight sandwiches, as well as a wide selection of tea varieties.
The Royal Afternoon Tea at £29 per person includes the marmite Madeleine, scones and sandwiches, French pastries and traditional cakes with classic fillings.