BALTIC Centre for Contemporary Art, Gateshead Quays. South Shore Road, Gateshead, NE8 3BA www.sixbaltic.com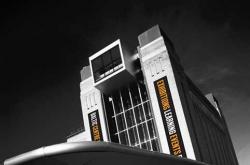 Being served a smashing starter always makes me nervous. Although I try to pretend that it is a sign of good things to come I always fear that this is it, the highlight of the meal, the plate against which all others will pale in comparison, the most memorable taste of the day. I have left many Italian restaurants singing their olive oil's praises the loudest, Indian restaurants their naan's and takeaways their chips' and I'm afraid Six proved me right on this occasion, even if it did take longer than usual.
You could say it was a classic case of pride coming before a fall. As all the publicity makes blindingly clear, from the top floor of BALTIC (Gateshead's Centre for Contemporary Arts) you can look over the Tyne and the surrounding city. Rising to the restaurant in a glass lift through five floors of contemporary art is undeniably impressive and the dining room itself is a glass cuboid secured by stern silver arms to the old flourmill below. By treating the visitor to such a grand entrance though, Six left itself a rather large and perennial challenge: if a restaurant is so bold as to sell itself upon its location, the food must be good enough to compete. Our Sunday lunch could not fade into the background greys of a January sky but would have to initiate a tug-of-war between the views and the plate.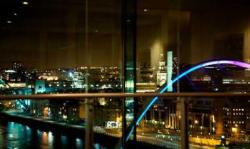 Anyway, back to my starter. The celeriac and truffle soup was as deep and light and pale and musty as I could have wanted. It passed my special soup test too: the first scoop must taste like you could eat it forever and the last like you couldn't eat another drop. The crab and avocado salad looked slightly miserly on the plate but was perfectly composed. Well-balanced flavours, a clever combination of texture and an opportune appearance of some chilli in the dressing meant that he finished it before I was even halfway through my soup.
It was the mains that triggered a slight feeling of descent, but only in the minor details. The centre of attention in both cases was very well executed. My roasted mackerel perfectly flaky and had a good herb crust with a welcome squirt of lemon juice working its way through everything. Accompanying Mediterranean vegetables seem a bit old hat in 2011 but their cooking was faultless. It was the aubergine puree that let the dish down – too cool and only half as powerful a flavour as I would have liked.
The pork belly was again excellently cooked and deeply flavoursome. It was joined by good, al dente buttery kale and a magnificent apple and cider jus. The only slight flaw here was the presence of one ingredient too many – red wine-poached quinces just tipped the dish into over-sweetness. We ate them afterwards instead, once everything else had disappeared from the plates.
All impressive and only a few small hiccoughs so far, but it was the puddings that brought us shuddering back down to earth, or at least to the bottom of that glass lift shaft. A white chocolate rice pudding was so bland it seemed as if it had only just encountered the chocolate chips sitting beside it in embarrassment. The Eton mess had a most unnerving texture: overworked cream run through with specks of meringue and smears of raspberry. As the waitress put it when she saw that three-quarters remained in the bowl, 'yes, it was a bit, um, interesting'. The refund was appreciated – I think I'll leave it there.
The offer of a refund, however, does typify the excellent service we received, especially considering the demands of a large table behind us, and their roaming children. Unfortunately, the restaurant's name could well describe the dotage of the décor; there was a hint of a wobble to the tables, and a sigh in the drinks lounge sofas but I was feeling generous and put it down to a their proclaimed 'relaxed' atmosphere.
It seems unfair that less than a third of my food at Six should have so tainted the experience but I can only be honest – the skill of the first two courses just made the awfulness of the puddings so jarring. When it comes to value for money though, £20 for three courses at the standard of the first two is hard to beat. I'll be visiting again soon, but perhaps I'll buy a flapjack in their ground floor café on the way out.