Nick does a decent,if not particularly imaginative, lunch in a restaurant that offers a somewhat restricted choice, but he can't say it doesn't do what is says on the tin.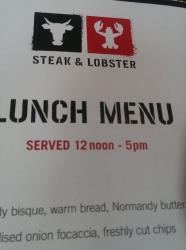 It's a funny thing about hotel restaurants but if you carried me into one with a sack over my head I'd know instantly where I was as soon as it was taken off.
Usually it's the clientele that give it away, the mix of young and old of no particular type, and then it's the menu. In few other restaurants will you find such a global choice as you find in a hotel restaurant; pasta and sushi, pizza and paella etc. The chef, if spotted, is not a tattooed egomaniac but a stone professional who can make any recipe from the big ring binder in the corner of the kitchen. It's all about following instructions.
Steak & Lobster don't do that menu thing, they only really offer two choices on the evening menu and you can probably guess what they are. Very few hotel guests will demand a larger choice. Steak and lobster is international food currency; it's a little bit classy and it feels a bit special and it's ideal if you're on expenses. The gnomes in accounts will accept it.
J and I  however have come for lunch as we're in the area and we want something easy and affordable and with tables and chairs. Although Steak & Lobster is wedded to the hotel behind it the entrance is its own and it looks smart. Inside it has an unsurprising international feel to it and a sense that some members of staff have been drafted in from other duties, such as portering or maintenance.
The genial elderly man who took us inside, for example, sat us next to his computer station, despite the fact that the restaurant was by no means full. This meant for the entire lunch he frequently stood over us tapping away at the screen and making us a bit uncomfortable. I'm sure he would have moved us if we'd asked, but by then we couldn't be bothered and anyway we're British, we don't like to make a fuss.
Anyway the deal at lunchtime (12 -5)  is a selection of eleven dishes billed as neither starters nor mains, which was a bit confusing. Needing more than one dish each, being hungry, we went for the most starter-like items – a lobster and brandy bisque, warm bread, Normandy butter, as well as prawn and lobster cakes with a lime and coriander dressing.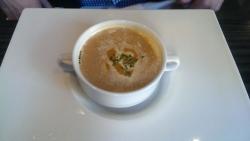 Seeing as the waiter still had his pen poised expectantly, we also ordered a steak and caramelised onion focaccia with chips and chargrilled steak bites with dijonnaise. Did we want all four dishes brought at once? Well no, we didn't, not really. The waiter raised a quizzical eyebrow at this but made no further comment.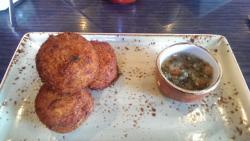 The bisque went down well, I suppose they aren't short of lobster shells to make stock and so it was powerfully flavoured and a generous selection of rolls and garlic butter padded it out nicely. The cakes were rather good, golden and crispy not burnt as they so often can be, and not over-processed either so that they remained light and airy with enticing bits of prawn and lobster still clearly seen. The dressing lacked punch though.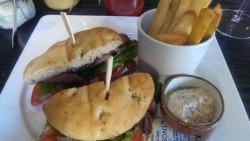 Soon came the chargrilled steak bites with dijonnaise, which looked good but were indeed not much more than bites. J regarded this with some disappointment that increased when my chunky baps of steak arrived along with a pail of chips. Yes a pail and I'm afraid to say the baps were served on a fake sheet of newspaper. Fads take a while to reach hotel restaurants.
The meats were both quality steaks properly cooked, proper taste not cotton wool. My focaccia baps were very slippy slidy because of the onions and so my first bite saw all the contents rapidly leave by the rear entrance forcing me to laboriously, and messily, reassemble it all.
J looked on with amusement as he languidly speared another slice of his meat and tried to steal my chips when he thought my hands were full. I liked the chips, they were all random sizes and crunchy and fluffy and everything that I like chips to be. J thought they looked good and so ordered some for himself, they never arrived.
Given the price we had no real complaints, a good value lunch with food cooked without any particular élan but with professional expertise. A Ford Focus of restaurants; gets you where you want to be economically and in comfort but doesn't get the heart racing.