Middle eastern restaurant updates its traditional Moroccan & Lebanese cuisine with contemporary dishes and sharing plates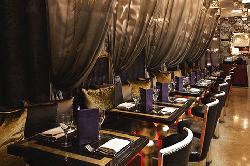 Mamounia Lounge, in Knightsbridge, has a new A La Carte menu and, not being averse to a bit of the old Middle Eastern, we happily accepted an invite to join with a group of other food fans to try it.
It's a rather luxurious place, as one would expect from the address – it's  almost opposite Harrods – but the staff are all friendly and welcoming and it has outside tables for those that like a Shisha or even a sneaky  Marlboro Lite after their food.
The menu is a combination of traditional Moroccan and Lebanese cooking. The cuisines have a lot in common of course, 
and often have the same dishes with slightly different names. They all lend themselves to sharing quite naturally.
The new menu also interprets classic Arabic dishes, showcasing Head Chef Thamer Darwish's grasp of traditional cooking methods, and he was happy to come off the stoves for a few minutes and tell us all about them.
There was a lot to say and I was a bit worried that the mezze plates would go cold, as the aromas and appearance demanded I dive straight in. No worries though, everything was still good to go when the starting whistle finally went.
So, we had: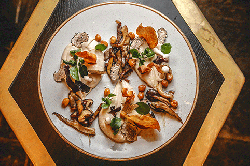 ·       Truffle Hummus: Creamy Pureed Chickpeas whipped with Tahini, Truffle Oil & Lemon Juice served with Truffles, Wild Mushrooms, Crispy Chickpeas & Warm Lebanese BreadVery good bread is a bedrock for this kind of dish and we had that for sure. This was a hummus and a half. Proper truffle shavings too, not the horrible truffle oil and a distinct flavour the all-important tajin
·       Seafood Bourek: Golden Brown Crispy Filo Pastry with King Prawns, Crab Meat, Scallops & Vermicelli spiced with Chermoula served with Harissa Yoghurt.
You could call a Borek a Middle Eastern spring roll, although not perhaps to anyone from the Middle East.  This was very good mouthful, the pasty a bit oily but otherwise properly friable and the fillin was excellent and fresh. Dunking the borek in the not-too-fierce harissa yoghurt is a must.
Kadaif Prawns: King Prawns wrapped with Crispy Kadaif Pastry served with Smashed Avocado & Lime
I really loved these, we all did. The crisp, crunchy pastry exterior was  a perfect foil for the buttery prawns inside and it was all well set off by slivers of creamy avocado and the citric buzz of the lime.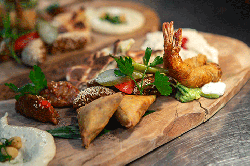 ·       Mechouia: A Traditional Moroccan Dish Comprised of Slow Roasted Mixed Peppers with Tomato, Garlic, Paprika & Cumin
This was excellent slathered onto the bread or in my case, forked straight in. You can't take me anywhere! There was that smoky, husky voice of the peppers with a breath of garlic and that bass note of earthy cumin all well balanced out.
To be honest I could quite easily leave a Lebanese restaurant having just eaten the mezze, especially these, but it seemed rude not to have a try at the more carnivorous dishes cooked over charcoal
The mixed grill had it all –  including Shish Taouk, Lamb Fatayel, Lamb Kafta and Chicken Kafta served with a Crisp Tuile, Mushrooms & Harissa Yoghurt.
The meats were wonderfully smoky and charred yet still moist within demonstrating some skill on the grill -BBQ dads take note of how it's done, you don't need to serve meat burnt to a crisp or dangerously raw.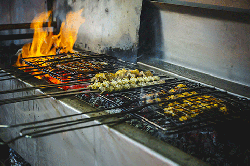 And of course, we had to try a tagine, In this case Kafta Tagine: Spiced Lamb Meatballs & Crispy Turkey Bacon served in a Tomato Sauce. The turkey bacon of course to satisfy Muslim dietary restrictions and it did taste, surprisingly, like bacon.
I was sorry not to do justice to the range of desserts – Baklawa: Crispy Filo Finger Pastries filled with Pistachios; Mahalabia: Arabic Milk Pudding with Date Molasses, Rose Water and Caramelised Pistachios and  Baghrir Crepes: Spongy Crepes made to order with Cinnamon Ice Cream & fruit but I had bit of each and all were rich and decadent as they should be.
As I staggered out, fully laden, past the bright lights of Harrods, I felt I had experienced the full hospitality of the Lebanon and then some.
Knightsbridge:  136 Brompton Road   London SW3 1HY
Mayfair 37a CurzonStreet London W1J 7TX      All photos supplied by Mamounia