19 New Cavendish Street, London, W1G 9TZ www.the-joint.co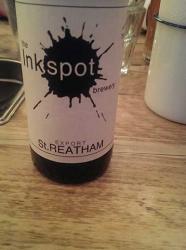 Four of us needed feeding at lunch pre-Xmas, a time when it's hard find anywhere that hasn't got Jeremy from accounts dancing on a table while his boss is being lectured on how to run the business by an intern.
It is in fact quite quiet in The Joint, when we arrive, but then we had reckoned it would be at mid-afternoon. You get to see the decor, which is minimal; bright mural walls and wooden tables of that scaffolding self-assembly kind, but with an ice bucket in the middle for hipster beers. I didn't realise this was the reason at first and thought it was for chucking your chicken bones and  soiled paper napkins into which, in fact, it's very good for. Top design idea there, I offer it free.
And talking of beer I had to have the St.Reatham ale as that's my corner of town; the last place left in London that's still affordable. Or maybe not, the recent arrival of bearded fat-bottomed young men can only mean we're on our way up. It's good beer though, so that's okay.
We ate wings and ribs and the kinds of things you do in a place like this, some arrived in paper bags with labels, which was cutesy, and the wings were good. It's hard to make bad wings. The onion rings were a bit on the large side, overpoweringly oniony. The ribs had tender meat but were not all that flavoursome even when nibbled close to the bone.
Much the same was said of a pulled pork burger, despite it having all kinds of things shoehorned into it to create the flavour bomb experience – candied apple bacon, 16 hour pulled pork, guacamole,'slaw, cheese and an egg.  The overall texture was wet with a side order of wet and the eater, someone who likes this kind of food a lot, was under-impressed to say the least.
I hedged my bets rather by going for an Asian styled burger, spring onion, chilli, ginger, slaw and pulled pork and expecting fireworks, but it too was bit of a disappointment. The pork was again bland and wet and the Eastern spices had gone west. Of course once bitten into the whole thing disintegrated pretty fast and I ended up almost licking the remains off the table. Very good chips saved the day, a bit.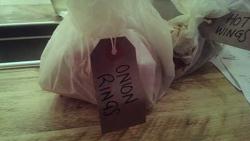 One of us had their burger as  a fig and vanilla brioche bun. I personally feel brioche is too sweet, adding more sugar where there is already a surfeit, but none of us recalled the taste of fig or vanilla in the bun so I don't know if it helps with flavour or not. It's a bit of an odd idea, but I suppose it's fashionable.
Speed drinking of beers kept us cheerful, but overall the verdict was not good; the lack of taste and the preponderance of wet made us wonder if the meat had really been smoked at all, or if it had been smoked then when?
Reviews of their Brixton original restaurant have been uniformly of the AMAYZZZEEENG!! kind, so perhaps this branch needs some work, until then you may well want to bogart this joint.
.