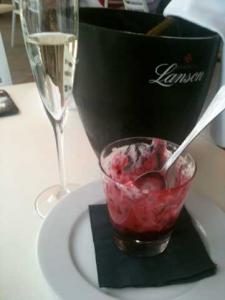 I always enjoy catching up with a schoolmate after a lengthy absence. Even the odd occasion when you discover one of your old chums has become a complete and utter…well, I'll tell you next Tuesday…is still fascinating. Writer's instinct fuels the fire of curiosity to pinpoint the moment when their transformation occurred. However, on this occasion it was one of those times when you realise how much you've missed a good friend.
It had been at least eight years since I'd last seen gadget girl. In that time we'd managed to acquire jobs that the other coveted. Whilst I had been eating in fine venues, she had been playing with the latest toys for boys. Despite television appearances and a job I hankered after, Gadget Girl had never previously visited Somerset House. Marcus 1 Gadget Girl 0!
Although I wrote my invitation to join me at Tom's Terrace, my fingertips felt like they were sporting blazers and flat-caps. 'Early dinner by The Thames? Tom's Terrace at Somerset House?" You can take the cooking out of Chelsea but you certainly can't take the Chelsea out of the invitation. A recent trip to see my beloved Aston Villa trounced at Stamford Bridge left me with a bitter taste towards the area, but the prospect of sampling cuisine from one of Chelsea's finer chefs rewarded me with Gadget Girl looking particularly stunning, cue the football expression 'result' and my clemency for the tofty suburb.
It definitely is the time of year to take advantage of the venue. The late-setting, bright sun creates a glorious spectacle at the back of Somerset House. Aromas flood the surrounding area and urge you to uncover the source of the enchanting culinary whiffs. Feed me, feed me now!
Gadget Girl exposed me to the process that a woman chooses her courses, which apparently is to look at the desserts first and work backwards through the menu. Unfortunately she was mortified by the lack of any chocolate on offer. No bother, perhaps seasonality has something to do with the decision, who am I to question the menu anyway. I shall adopt the masculine version of selection and choose the meatiest offerings for starter and main course followed by a dessert that is wickedly unhealthy
I begin with a chicken liver and foie-gras parfait, served with toast, small gherkins and onion chutney. The starter is presented stylishly on a large wooden board, accompanied by a small foreign object, ah well, these things happen. Combining all the various segments is recommended, as the parfait alone on toast is a tad insipid.
There are four options for main course, the meatiest of which is the burger, and therefore is my pick with all the optional additions, (cheese and bacon), piled on top. Whether your burger arrives with or without the toppings plays no part in the burger being less of a sizeable tower and difficult to squash into mouthful bites. Still, burgers are meant to be messy, and I like the fact that even in this pristine setting there's room for regressing to primordial hands-on habits. Moist, cooked well and not too greasy, the burger was a welcome challenge, accompanied by delicately crisp chips.
Time to choose dessert and Gadget Girl makes one last Hail-Mary play for the chocolate she craves, but to no avail as the waitress confirms that her worst fears are in fact true, no chocolate. I'm not the biggest chocoholic, so Eton Mess is good for me. There's plenty of it too, and I'm done with my Prosecco before I'm even half way to conquering the rich, fruity dessert.
I'd visited Tom's Terrace on opening night when Lanson was free-flowing, meaning bathroom trips were frequent and essential, the slight downfall being they're located outside of the restaurant, obviously. It's only a slight disgruntle, as are the other minor hitches with the meal, undoubtedly not worth kicking up a fuss over. The occasion was a perfect fit for the venue, a really fantastic place to grab a quick bite with a friend and enjoy the summer sun. Though if you're friend is addicted to chocolate then make sure they're aware of the absence beforehand.