Urban Meadow Bit of an oxymoron isn't it? We debate this as we trudge along the Bayswater Road heading west toward the promised land of Kensington. We're leaving the Streatham-lite of Queensway behind, its peculiar squalor and odd inhabitants now a distant noisy memory.
It seems we may have made a navigation mistake though, there seems nothing up ahead but Hyde Park on one side and large anonymous buildings on the other. J holds his iPhone upside down, in case it has got confused, but it still insists we are heading in the right direction. And sure enough, suddenly there is Urban Meadow nestling next to the street, a modern glass fronted place with seats outside affording a glamorous view of the coach park of Hyde Park.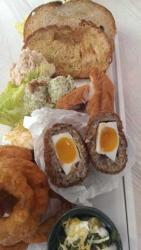 Odd location, we think, but perhaps not. It is in fact part of the new hotel above it, which is still undergoing some modification, as the pounding of a Kango hammer testifies, and which accompanies our eating almost all through lunch.
An all day restaurant/cafe Urban Meadow is bright and light and cheerful. Good looking pastries and snacks are on the fast service counter and copper leaf motifs crawl across the ceiling. The furniture is bleach wood style, modern Middle Eastern one could perhaps say and that's probably who makes up much of the regular clientele. It's that kind of area.
Light pours in, making it feel more like spring than autumn, while upside down plants hanging from the ceiling also add to an inverted feeling. Let's hope the food isn't topsy-turvy.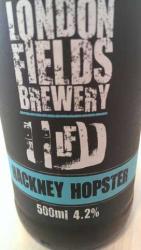 As an all day cafe, Urban Meadow has a variety of things to grab and go, plus a breakfast, lunch and grazing menu. From the latter we share a Larder Plank (sic) containing a bit of all that's available on the grazing menu. It comes rather impressively to the table and as J answers his phone, I grab all I can – potted rabbit, smoked mackerel, a scotch egg perfectly warm and soft in the middle but curiously square, a broad bean ricotta. You get the picture and if not, well it's on the right. Nothing we didn't like, although the squid rings were a bit battery so the cephalopod didn't really surface. It was all fresh tasting too, except for the mackerel, which had that'last thing left on the wedding buffet' air about it. But then I find smoked fish always does.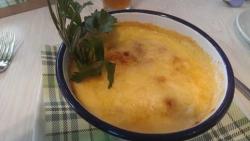 They do a nice beer at Urban Meadow, I had a bottle of London Fields Hackney Hopster and, while the name made me gag a bit, the beer was extremely good and, as advertised, very hoppy. J had a draught beer, which I forgot to make a note of, but he liked that as well.
Something about autumn drew me to the Cauliflower cheese on the menu. You don't see it that often and I do rather like it. Here it came in one of those enamelled'dog bowls' that are all the rage in pop ups but I find a bit tacky anywhere else. Not a bad dish but, and this happens at home too, a bit watery. No matter how much you drain the cooked cauliflower it always manages to dump more water when its baked The Keen's cheese was too mild for me, I like a cheese that bites back, but still tasty enough. Excellent chips to dunk in the sauce.
It's kind of obligatory to have a pulled pork dish on any menu these days and Urban Meadow have fallen into line with a pulled pork burger. J volunteered to try this and, unfortunately, regretted it. He reported the brioche bun was too sweet (they always are, it's a mystery why anyone would serve savoury food in one, but nonetheless everyone does) and the pulled pork not particularly exciting. Shame but he ate it all up and enjoyed his chips and celeriac coleslaw.
Puddings were as British as complaining, apple and gooseberry crumble hit the spot with a resounding thud and was so generous J had to admit defeat and leave a good bit uneaten. Mind you, he had eaten all that pulled pork. And chips. I had a lighter dish unclear on my notes, but a posset on a base of jelly and fruit. Very retro in many ways but still perfectly decent and unlike crumble, not belt tightening.
And that is Urban Meadow, all day eating, a changing British menu, bright cheerful surroundings and keen to please staff and when the weather's warmer a good place for al fresco feeding.