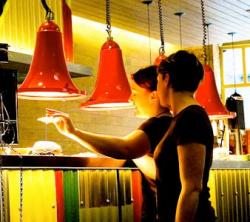 You have to watch what you say about Mexico and Mexicans. Dear old Jeremy Clarkson got into awful trouble for making remarks about the latter, based presumably on the Speedy Gonzalez cartoons he saw as a kid.
Well Jezza has other things to worry about now of course, so lest the big guns of the PC police become brought to bear on me let's be perfectly clear about one thing – my reluctance to eat Mexican food has nothing to do with any dislike of the country or its inhabitants, but stems from historical bad experiences of the stuff.
Brown food, same ingredients in different formats, bad beans and fierce chilli all served lukewarm on a red hot plate. That was Mexican food when I were a lad. It filled you up, but gave you wind, and was not on my list of 'must eat cuisines'.
And to be fair it still isn't. A friend who writes about food in Texas tells me the Mexican food he encounters in the country is stunning but he appreciates it doesn't travel well. The ingredients lose their freshness, the recipes are dumbed down.
Thomasina Myers, co-founder of Wahaca, came back from Mexico determined to change prejudices about Mexican food. Her first hand experience led her to believe it could work in the UK as something pitched between fast-food and fine dining and now, with the fourth outlet open in Soho, she's pretty much been proved right if bums on seats count for anything.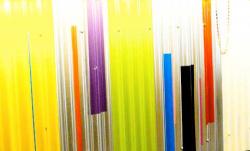 Bright, breezy and full of customers who could have walked right out of a TV ad for mobile phones – downy beards for the boys etc – the Soho branch is a cheerful place to eat and an option to the ubiquitous upmarket burger joints.
Pork scratchings come like little swim-training floats in a tin bucket. A change from the usual teeth breakers, they're puffy and nice and nibbly, although not best designed for shovelling up the authentically lumpy guacomole, that's a job for Senor Tortilla chip.
Menu pondering over, from 'street food' we ordered Grilled British steak with chipotle salsa – three small tacos topped with the steak. These were good, the steak juicy and rare, the chipotle zingy, and each taco happily enfolded its topping before being popped into the mouth.
Less easy to eat were Tostadas of Chicken guajillo. The chunks of marinated chicken, lettuce, guacamole and smoky guajillo oil were piled high on the tostadas and when bitten half the toppings went up my nose, while the other half tumbled in pieces back down onto the plate. A bit bland too, but then chicken breast often is. The spicy sauces on the table helped take care of that though, their presence reminding you that Mexican taste buds are battle-hardened things.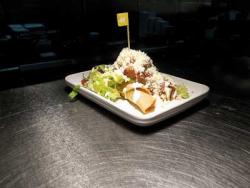 Chorizo and potato quesidallas were much better, easy to hold and eat they were oozing with cheese and potato but were a bit light on chorizo. Even so the perfectly crisp quesidallas made each bite a good one. Pork torta – Pork pibil, guacamole, refried beans and shredded lettuce in a toasted white bun – came close to being a blogger burger but narrowly escaped such a fate. Another mess to eat, more napkins please, it was a juicy little bite and the toasted bun held its own against the tide of moisture flowing from the pork.
We shared a Platos fuerte, or Big Plate. Chicken again but this time the chicken breast had been marinaded in a mix of cumin, oregano and unspecified other spices. This did it a lot of favours as did the grilling, delivering smoky flavour right onto the meat. Served with coriander rice and slices of onion pickled to a bruised purple colour, it was the most European dish despite its origins and was plenty for two people.
And with that we were gone, not quite like Speedy Gonzalez, as Mexican food is quite heavy but we left happy. Purists do keep saying that there is no 'authentic' Mexican food in the UK and maybe that's true, not having been South of The Border I'm in no position to judge, but is that the point?
Wahaca is turning out highly edible food in jolly surroundings for people who want informal eating at all times of day and night. Its success can be measured by how it has grown from the original Covent Garden store to spread out across London.
I can't see myself making a trip to Wahaca all that often, at the end of the day it's not my kind of cuisine, but they do it very well. The consistency is there, the sharp service is good and the price is right. What do you say Speedy?
"¡Ándale! ¡Ándale! ¡Arriba! ¡Arriba!"
P.S
In 1999, the Cartoon Network ceased to air Speedy Gonzales. In an interview to Fox News on March 28, 2002, Cartoon Network spokeswoman Laurie Goldberg commented, "It hasn't been on the air for years because of its ethnic stereotypes." This is widely believed to refer to Speedy's fellow mice, who are all shown as being very slow and lazy, and sometimes even appear intoxicated. (Wikipedia)