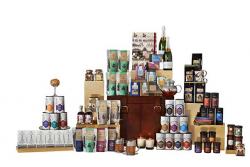 The East India Company's diverse Festive Hamper range.
The East India Company's 400 year history and explorers spirit has been harnessed to create a range of luxurious hampers, each with its own story to tell. 
This festive season, The East India Company has focused further on bespoke hampers, offering the possibility to select foods tailored to individual taste, and the ability to customise packaging as well.
Each hamper is filled with the finest flavours, from the quintessentially British to the wonderfully exotic – ranging from £30 to £1,500 and beyond.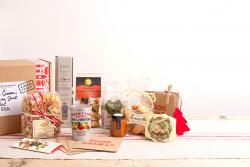 The Flavours Christmas Hamper.
This festive Christmas hamper will arrive bursting to the seams, complete with snacks, desserts and the ingredients to make delicious Italian food.
Instantly improve cakes and sweet breads by using the traditional Fig Marmelleta. Impress guests with authentic Taralli and create delicious unique dishes using the Red Pesto and Christmas Pasta.
The wide range of traditional desserts and snacks included will satisfy any appetite. Cantucci biscuits, Amaretti macaroons, Panforte, and Tuscan Chocolate all provide quick treats for anyone with a sweet tooth to indulge in.
A set of Flavours' own set of "Buon Natale" Christmas cards are also in the hamper, and there's  even a Christmas decoration to get you into the festive spirit.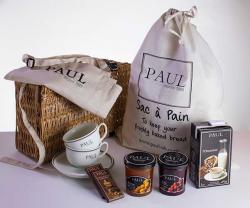 PAUL Panier de Noël (£35 plus £12.98 delivery) 
Give the gift of gourmet French goodies this year with PAUL's new Christmas hamper; filled with festive essentials to make cosy winter nights in front of the fire all the more magical. 
Packaged in a classic wicker basket, which can be delivered direct to your door, spoil someone you love, treat a colleague or replenish your pantry with treats from PAUL. The hamper includes an exclusive set of limited edition coffee mugs and PAUL apron, a litre of PAUL's thick hot chocolate mix, a duo of apricot and strawberry preserves and two luxury chocolate bars alongside a handy 100% natural cotton bag to keep bread fresh. 
Aubaine
This Christmas, relaxed all-day dining contemporary French brasserie, patisserie and boulangerie Aubaine, will bring you a truly authentic French Noël experience in all of their London restaurants from mid-November, to spice up the festive season.
A limited edition festive hamper will be on offer to purchase from Aubaine restaurants for £60, for a special French-inspired gift for foodies. Lucky recipients can enjoy favourites such as Aubaine's signature mince pies and orangettes from the range as well as delicious winter jams, nougats and fiery gingerbread men. The hamper will also feature Aubaine's own mulled wine mix, for spicing up Christmas from the comfort of your home.