Looking for a hot lunch snack'solution', Nick goes into Grab and gets him some tasty Thai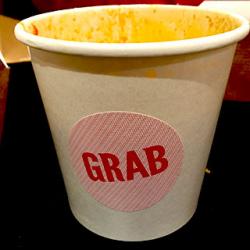 Mother always said it was rude to grab, but frankly in our house it was a case of snooze and you lose. Fastest finger was first.
Grab sums up what the third branch to open of this would-be chain is all about. Grab it and go. Lunch is for wimps. Well this wimp really hates eating at his desk, the crumbs get under the keys for one thing, so I was happy to find a few tables here to hunker down at.
It's Thai food, one of the original street foods to my mind, or at least one of the first I actually ate and enjoyed. You can never hope to find it as tasty as it is in Thailand; the ingredients can never be as fresh and, rather like fish and chips, it tastes better when it's eaten in its natural environment. But nonetheless I love it.
Grab was set up by husband and wife team who missed the street food of home, Bangkok, and wanted to get back to as close to it as possible. Like many a start-up they first opened where they would get the right kind of customer, Old Street.
This new branch is pretty minimal and a wire cage mostly encloses the kitchen. This, I presume, is a style statement and not a comment on the kind of customer expected. Many years ago when I lived in Peckham, before the bellendens arrived, my local off-licence operated a similar principle – you told them what you wanted and they passed it through a grill, once you'd handed over the money. Nice.
We grabbed a Thai green curry, of course, a Massaman curry and a Garlic and Pepper beef. For good measure we also ordered some Tom Yum soup, because I love it and Pad Thai because C likes it and had fond memories of Bangkok nights and early dawn eating. The menu at Grab is really quite large and includes breakfast congees too, something I find people either love or loathe, and nothing is expensive when you consider what a Wet a Manger sandwich costs these days.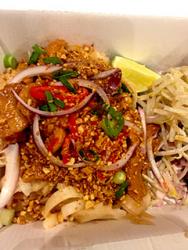 It all comes in eminently recyclable lidded cardboard containers, which are good heat retainers too, so our food stayed toasty right to the end. The green curry with rice (brown or white, your choice) was well packed with breast meat and clearly fresh vegetables – even the courgette had crunch. The chillies were a bit bland, I like a bit more fire but obviously it's best to err on the side of caution. The chilli sauce was on hand for a bit of livening.
The Tom Yum was definitely one of the better ones I've had, the balance of sour and sweet well-judged, the chili enough to cause mild forehead sweats and an outbreak of nose blowing all round. I got at least two tomatoes, I like the tomatoes in Tom Yum.
They can't use gas woks at Grab, something about the usage rules I was told, but all the same the Pad Thai was very creditable. The noodles not too glued together, a good sour tamarind hit, and all the toppings present and correct with the bean shoots very fresh. A slimy bean shoot is a thing to be avoided.
The Massaman curry was okay, not the best I've had, and the turned carrot slices reminded me of frozen in their appearance. The only dud dish was the pepper and garlic beef. I liked the warm heat of the peppercorns but the meat was too chewy for my taste, perhaps a Thai person could correct me here?
But basically we could not fault Grab on price or flavour. A good menu choice, food delivered in a flash and very tasty too. As the cold winds begin to bite this winter, I reckon you could do a lot worse than grabbing something hot from Grab.
MONUMENT BRANCH
3A Lovat Lane
London EC3R 8DT
OLD STREET BRANCH
5 Leonard Street
London EC2A 4AQ
MANSION HOUSE BRANCH
68 Queen Victoria Street
London EC4N 4SJ