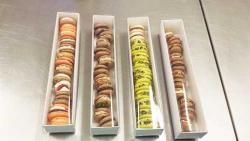 Tom Leahy gets his hands sugary as he enters the manly world of macaron making
It was only a couple of years ago that macarons (or macaroons if you prefer) were the confection du jour: Ladurée had opened their boutique in swanky Burlington Arcade and every weekend supplement featured a veritable rainbow of brightly hued and flavoured macarons. But, if my ancient philosophy courses at university taught me anything, it was that everything is in flux and nothing stays the same: fancy French food is out and beards, tats, cronuts, and pulled pork and kimchi sarnies are in.
Mind you what does a cronut have that a macaron doesn't, apart from a bit of cheap publicity and a crappy portmanteau name? Technique? Definitely not! Making decent croissant dough might be A-level pastry, but mastering the macaron is closer to degree standard and far from the easiest trick in the pastry chef's book.
However, at the Tante Marie cookery school in Woking, they host a one day course, which promises to equip you with the skills to tame the mighty macaron. I have made them once or twice before to varying degrees of success, so the opportunity to learn from the masters was too good to pass up. Therefore, on the hottest day of the year, I headed to Woking in possession of an apron and an optimistic frame of mind.
Macoreena
After the obligatory teas, coffees and awkward small talk with fellow macaron fanciers (have you come far?), it was on to the demonstration. The skillful Ally raised our hopes by making the whole business look like a piece of cake, so my optimism looked to be well founded as we were let loose on the almond, eggs and sugar. Whisking, folding and piping like an army of sweaty patissières, each student was tasked with the production of two batches of macarons.
As a sucker for anything pistachio, my first lot were dyed bright green in preparation for a nutty filling, and the second were vanilla flavoured, which was achieved via a heaped teaspoon of vanilla paste. After making the macarons themselves we moved on to the all important filling. Ally had earlier demonstrated how to make a crème au beurre mousseline, which is a fancy buttercream, and a chocolate ganache.
I've made a ganache plenty of times, so it was the fancy buttercream, which involved another five or ten minutes of whipping as well as manhandling molten sugar. The crème is perfect ripe for a bit of jazzing up, so I added pistachio paste to one half to go with my green macaron shells and Frangelico and toasted hazelnuts to rest, before class was dismissed for a well earned lunch break.
Man and macaron
After a very agreeable lunch (how could it not be in a cookery school), the day's final task was to fill, assemble and decorate the macarons. It would be immodest of me to say mine were a triumph, but hang modesty, because they were. The vanilla shells filled with the hazelnut cream and topped with a dusting of crushed chocolate covered coffee beans, were especially good and the star attraction when some friends came over later to taste my spoils.
I have been to several cookery courses that promise a lot: some deliver and some do not. Tante Marie's macaron course delivers in spades and is one of the best I have been on. The teachers were helpful, kind (especially welcome when there's so much to go wrong) and gave excellent instruction with plenty of tips and hints. The final coup de grace was the smart box they provided to take home those fancy macarons. After all impressing friends and family is everything! Pierre Hermé eat your heart out!
Tante Marie Limited Woodham House Carlton Road, Woking Surrey, GU21 4HF