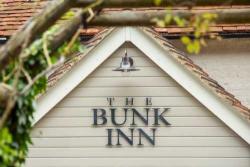 In England, the countryside starts where the tarmac ends. It doesn't matter if the M4 is blocked from view by a single row of poplars, and the headquarters of a large multinational lies only a stones throw away, when the roads are barely paved, horses stare at you from the fields, and the satnav attempts to direct your car through a hedge, you're most definitely in the countryside.
The Bunk Inn sits only a mile from the M4, five miles north of Newbury and ten west of Reading, yet still requires a 250 word description of how to get there. It really is that rural. For us, this was the final leg of culinary mini-adventure that took in a Good Food Guide listed riverside fish restaurant, a Good Beer Guide listed parlour pub, and a former Michelin starred fine dining restaurant, desperate to win back it's stripes. Given this gluttony, I thought my belt would need an extra hole come Sunday. Given the competition, I thought The Bunk Inn would finish firmly at the bottom when ranking the four.
How wrong I was. The Bunk Inn demonstrated that old adage perfectly: don't judge a book by its cover. Not that there's anything wrong with the look of the place, it's just that I've been conned by this sort of pub before. It's an old pub recently renovated at vast expense to be light, airy, clean, with fresh paint, an abundance of polished wood and bar staff with a smile. Often though, this is a desperate attempt by a brewery, landlord, or manager to create a facade so spectacular you fail to hear the ping of the microwave. Let's just say, I was approaching this one with caution.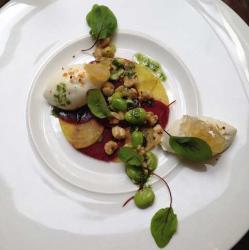 With a stomach that screamed no, my tongue set to ordering a couple of starters and a main course. Smoked salmon with chilled cucumber soup was not what I asked for, but what the manager insisted I tried. Again, I'm clearly a terrible judge of books. This was an incredible dish. A picture perfect meaty piece of salmon fillet adorned with radish, cucumber, the odd leaf, and a lightly spiced creme fraiche. It was a crime to pour cold soup from the accompanying jam jar on to this canvas. I did though and the thin peppery soup gained a creamy texture when muddled with the crème fraiche, creating a dish that leapt off the soon with flavour.
A paragraph to describe the salmon starter doesn't do it justice and there was more to come with a ham hock terrine. I only ate a corner on this (it wasn't my dish), but that was all that was needed to appreciate the rich salty pork singing loudly on top of lightly fried bread.
The final starter was almost in the same league as the first. Spoons of goats cheese ganache with pieces of honeycomb balanced on top, sat on a beetroot carpaccio, scattered with hazelnuts. The first bite was poor: the carpaccio on its own was tasteless and under seasoned. The second though, when all the elements were combined on a single fork, was truly magic. The zing of the goats' cheese was tempered with the incredible sweetness of the honeycomb and both provided the burst of flavour the carpaccio needed. Don't get me wrong, the dish couldn't have done without the latter though. Those thin slices of beetroot necessary to balance the texture of the dish; without them, it could have been served in a small plastic pot with a spoon. Although, I'd have eaten that and still gone home happy.
Sadly, the main is one to skip over. It was roast beef from the Sunday lunch menu. Adequate, but then I've never had a roast dinner that's had me swinging from the chandeliers. I suppose they have to put it on the menu as many (read: all) of the diners on a Sunday expect to see it. I really should have picked something from the a la carte menu. Had I eaten the starters before choosing the main, I'm sure I would have avoided any disappointment.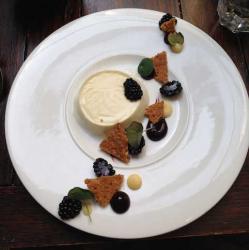 Belt straining and brain convinced that there'd be no dinner that evening, I opted for a pudding. Lemon thyme milk jelly, with blackberries, lemon curd, and flapjack crumble was chosen by the manager and once again, she made a perfect choice. This was another picture of a dish. The milk jelly tasted like an extremely light panna cotta, with the ripe, warm blackberries, aided by the lemon curd, burst with a bitter sweetness.
Here was another demonstration of intelligence and thought on a plate. A brilliant balancing act of texture and flavour. A dish which had been considered in view of what had come before: i.e. a straw that wouldn't break the camel's back, but instead sit nicely at the top of his stomach and give him a warm feeling of contentment on the drive home.
While The Bunk Inn is maybe an hour's drag from London, for anyone passing this should be a scheduled stop. With well-balanced flavours and a delightful presentation carried through every dish, you might find yourself taking a room, waiting for breakfast, and perhaps staying again for lunch. Just make sure you print out those directions in advance.