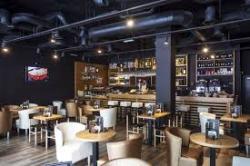 272 High Holborn, London, WC1V 7EY www.masqmenos.com
If you like Spanish food and quite frankly, who doesn't, it's bloody gorgeous, then you're in luck mi amigo because MasQMenos has arrived in London. The company has chosen a spot between Chancery Lane and Holborn as its home, which is great news for all those lawyery suited and booted types that occupy the area, but also good news for those of us within walking distance. It's right next door to my Specsavers, ca-ching! Should-have-gone is now will-be-going-more-often.
MasQMenos doubles as an upmarket eat-in delicatessen and stylish café. Wouldn't call it a restaurant, but definitely not a greasy spoon. Delicatessens rock my world. I like the buzz of discovering awesome produce that you wouldn't find in the big boy supermarkets. Fret not if thou doth not have a delicatessen nearby, you can still get this sort of buzz from Aldi or Lidl. I've been gorging on this buzz for years whilst living in Wales, shopping at Lidl and buying from local farmer markets.
There's two types of lunch – quick and slow – and here they cater for both. A quick lunch means you can simply grab some food on the go, have it wrapped up, clear off and carry on with your day. Or you can go for the relaxed approach of sitting in, sharing a few platters and perhaps a cheeky glass of vino – which is the slow or'expenses' version of lunch.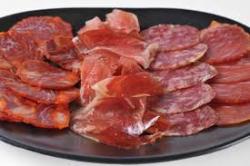 Cakes, pastries, meat, wine, cheese, fish…the options for shopping are pretty good, but as far as a quick on-the-go lunch is concerned the sandwiches are arguably the best option. Bread abroad always seems to taste better, (sorry to all proud Yorkshire folk), and the MasQMenos rustic is great. There are other options like the flatbread coca or even some olive and tomato options. Choose your filling from the huge list of options, all being meat, fish, cheese and veg based, and bob's your uncle.
If you've got a lot more time for lunch then you'll get a good bargain out of the sharing platters. They also seem the most logical of choices to be perfectly honest – why deprive yourself from trying multiple things or something different? Obviously grab a glass of gazspacho for starters, that's a must, then relax and scoff some Spanish treats.
The meats are high quality and have a range from the deep, dark and aged flavours of the Iberian cured loin and chorizo, through to the lighter subtle flavours from the beef carpaccio, Iberian cured ham and the prosciutto cotto valpaduse. Garlic lovers should have fun gorging on the salchichon and saucisson, but save room for the cheese and fish.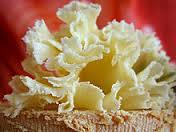 Cheesewise – there's manchego, naturally, which is one of the better variations I've sampled in London. There's a cracking new favourite in my cheese list – tete de moine. Now that's a cracking bit of cheese, which looks oddly like cauliflower or some sort of yellow lettuce, but it's fantastic.
Fish – smoked salmon and capers does the trick, but Spain's not really known for smoked salmon and this is not bad but I'll stick to Scotland. The smoked cod, however, which is served with tomato jam and olives pate is pretty amazing. Really soft, very fresh and perfectly matches the jam.
If you've got a sweet tooth, try the coca bread with nutella and whipped cream. That's pretty incredible. Putting it bluntly, when you're eating in a place like MasQMenos, it's inevitable that you're not going to sample everything in one trip. So make a few trips, try as much as you can, I'm pretty certain you wont be disappointed. Go for the tete do moine, stay for the choice.