The Old Passage, Gloucester, Arlingham, GL2 7JR www.theoldpassage.com
Fish on the menu but Nik finds no tastes to really get his teeth into.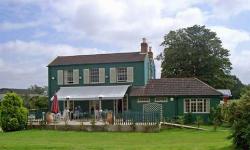 The Old Passage stands at the end of an ever decreasing road, which for us began in London as the A4 slowly narrowed through towns, fields, and villages into a trail two goats wide. It then plunged headfirst into the River Severn.
It's a spectacular setting. The river here is as wide as The Thames through central London – the village of Newnham plays the role of St Paul's on the horizon – and sweeps in a broad arc past lush green floodplains and endless sheep. The river and sky dominate the view and against both bodies of blue and The Old Passage, sitting as the last outpost on the bank, looks small and fragile.
Inside, sheep excrement cleaned from your shoes, a light, clean, modern restaurant greets diners with a heavy emphasis on the blue and white of a traditional seaside venue. Strange then that the slates acting as table mats were decorated with chillies.
I imagine The Old Passage as a weekend restaurant. On a Friday for lunch, no more than five people dine and the car park is vacant, aside from a small white Peugeot tucked in the far corner. On a Sunday though, silver German saloons of every make jostle bumper-to-bumper with dark green Land Rovers. Think walking sticks, Hunter wellies, tweed jackets, and plenty of King Charles Spaniels. A roaring trade must be done.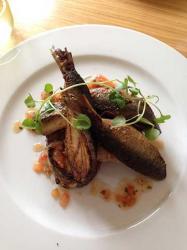 The menu of this blue and white restaurant is as seaworthy as its colour. I counted only two dishes on the a la carte that would have been eating the verge outside a few months' prior. As for the lunch menu, aside from a single vegetarian dish and the dessert, of course, it's solely fish. At £15 for two courses and £20 for three, it's incredibly good value when compared to the  £20-30 main courses of the al la carte. I'm a hungry man, so I waded in for all three.
Up first, a small fillet of cod resting on a bed of peas and beans, with a pea purée. Slightly bland, but not at all offensive, and for once I'll say this: desperately crying out for salt. The main, a entire shoal of sardines on toast, with a tomato salsa. The warm sardines had a decent smokiness to them, the salsa sweet and equally warm. Perfect. So often salsa seems spooned straight from the fridge, losing its taste at a low temperature.
To finish, a brownie. I find brownies boring, so it was always going to struggle. I don't know why I order it, perhaps a desire to find one that's more than half decent. At The Old Passage they'd tried their best with some nuts to balance out the rich chocolate and a shard of crisp caramel for entertainment. It didn't work though. I should have picked the cheese.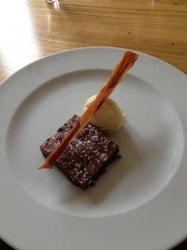 Accompany the lunch with a glass of wine (although not the one we chose – a highly acidic local drop from the Three Choirs Vineyards) and you have a fine meal for under £30 a head. I do have one criticism though – this was a lunch that didn't attempt to entice me back.
They're really missing a trick here. The a la carte sings of cod with a coriander and almond crust, lemon sole with nut brown butter, and roast monkfish, with braised oxtail and oyster mushroom (you can keep the beer battered fish) – all dishes that, on paper, should win hearts, minds, and tongues. Yet we on the cheap lunch ticket aren't given a sniff of the delights on offer from the kitchen.
Not a single thing to captivate the imagination and have us planning lengthy excursions on our next trip out west or passing on as a'must eat' recommendation to friends, family, and strangers alike.
Asked about our lunch later that day we didn't muster much more than a mumble. If restaurants still thrive on word of mouth, it's no coincidence that at lunch The Old Passage is almost deserted.