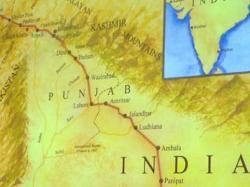 Moti Mahal 45 Great Queen Street, London, WC2B 5AA www.motimahal-uk.com
 As I walked into Moti Mahal and down to the dark chocolate and burgundy dining room on the lower floor, my stomach was already crunched into a pulsating ball of excitement and anticipation. I was there for the first in a series of four dinners at celebrating the culinary and cultural heritage of The Grand Trunk Road in India and tonight's experience was with photographer and author Tim Smith.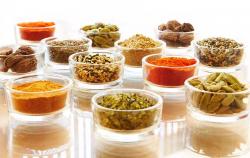 Few people get to actually travel this serpentine behemoth of a trade route and transport road that has linked the eastern and western portions of India for 2000-ish years. Even Foodepedia's head honcho, Nick Harman, has thought longingly of the legendary route that's peppered with foodie delights. Luckily for the both of us,
Moti Mahal has been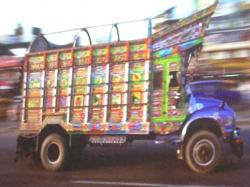 transporting diners to this not-so-off-the-beaten track since 2009 (Moti Mahal Hits the Road), with Nick getting his food passport in the restaurant back in 2013: The Grand Trunk Road – Taking a Trip with Moti Mahal. Tim Smith, however, has travelled extensively over, round and along it, from the edge of the Ganges and the seething streets of Calcutta, through Delhi and Amritsar and up to the rugged expanse of the Khyber Pass into Kabul.
Alongside Tim's photographs of the people who have lived and travelled along the road, there was the promise of a culinary journey along the way from Moti Mahal's head chef, Anirudh Arora, who has made his way to the Covent Garden restaurant via Kashmir, Ladakh, Lucknow and Calcutta.
I've always felt as though my stomach was connected to India by an invisible thread. Most of my memories of travelling there boil, simmer and reduce down to food memories: the crispy, saffron-gold jalebis, dripping in syrup and blisteringly hot from the fryer outside the Golden Temple in Amritsar; the skewers of charred tandoori chicken, smoking and red like hellfire from a tiny restaurant in Calcutta; the greasy triangle samosas packed with chillies and crunchy vegetables served with thimblefuls of ketchup and chai tea on the train to Delhi. In short, I was ready to take another trip along India's flavour trail.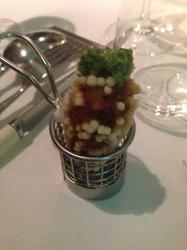 In between the trays of Indian canapés, which arrived in the form of miniature samosas with a deep maroon sauce, plump, deep-fried prawn kofta dumplings and fat cubes of marshmallow soft Saufia Paneer – Indian street food after a Michelin-star makeover – Bradford-based Tim showed us a window into the working and social lives of British Asian communities in the 80s.
He has been taking pictures in Bradford and beyond for years and, with every sharply-focused black and white image that swam across the screen, he delved deeper with images of archaic fabric factories and workers in the cold, northern winter. Tim joked that he used to say you could travel the world on the Bradford city bus, passing West Indian weddings, a Ukraine church and ending up at a mosque on the way.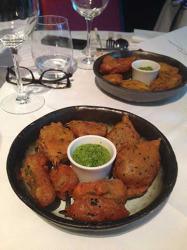 It was Tim's very own whistle-stop tour of Indians and Pakistanis at home and abroad that we were taken on at Moti Mahal, along an ancient road that is now, mainly, motorised…although you'll still see the odd camel and elephant on the way apparently. As his eye-searingly bright photographs of elaborately-painted Indian trucks and art work pit stops splashed across the projector screen, Tim managed to achieve that rare multi-sensory experience where you are almost able to smell the truck stop grease and oil, hear the roar of the struggling engines and the rasp of the artist's paintbrush against the metal work.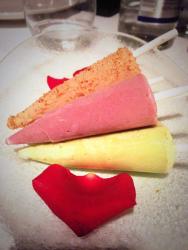 As the buzzer on his phone interrupted his sweeping view of The Grand Trunk Road, the close of his immersive talk heralded the arrival of the feast to come.  Thickly-battered aubergine pakoras from Punjab, Sorshey Macchi (sea bass in vibrant, yellow mustard curry) from Bengal, Squash curry from Ambala, a buttery, delicately-spiced lamb biryani from Lucknow and violently green Saag Paneer from Delhi.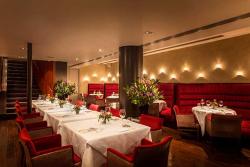 And they were only the dishes that I could reach across the table. By the time sharing platters of peanut brittle Gajak, sticks of Kulfi and tiny cakes of red carrot Halwa came I felt as though I my taste buds has trekked the full chaotic, entracing and confusing length of The Grand Trunk Road and all that was missing was an earthenware cup of masala chai…although, to be honest, the punchy shiraz that kept finding its way into my glass wasn't a bad substitute.
Future immersive eating events at Moti Mahal will include a Beer and Indian Barbecue evening with London microbreweries, a talk from a renowned filmmaker and an Asian wine pairing event with wine-maker Matt Thompson. For more information and booking for this series of Grand Truck Road nights, see the Moti Mahal website.