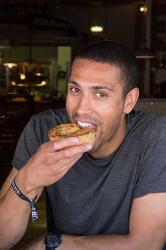 If there's anything better than a box of shiny-skinned pies arriving at your door then we don't know what it is. Which is exactly what happened recently when the friendly folks at Pieminister offered to send us a batch of their recent creations in collaboration with BrewDog.
Pies at the peak of summer we hear you cry. Well yes actually. Pastry the perfect summer ingredient – acting as a tasty vessel to be consumed with minimum mess (hence the very British habit of packing our picnics with flaky sausage rolls, thick brown-crusted pork pies and wobbly-centred quiche).
But back to the partnership of Pieminister and BrewDog – a duo, with their approach to using the finest British ingredients and respective groaning awards cabinets, seemingly made for each other. Learning the legends of both (Pieminister – the family run business who have grown from a Bristol-based shop hand making pies using 100% free range British meat to a 12 site success story; and BrewDog, the Scottish company started in 2007 by two men sick of the standard of industrially brewed lagers and stuffy, ales which now boasts a formidable range of highly revered craft beers (and 13 bars across the UK) makes one feel hopelessly patriotic. A bit like when you catch your first post holiday glimpse of Blighty's emerald fields in all their green glory from the plane and get a lump in your throat.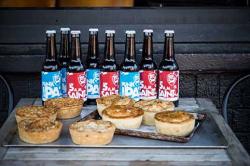 The limited edition range is hardly a range at all, with just two flavours – the 'Chick N' Hop' and 'Moodog' (so penned as the result of a social media competition). Both are fantastic – the stout, shiny rounds of buttery short crust pastry filled to their gold burnished suet tops with quality meat. The first with fat chunks of chicken and ham cooked off with BrewDog's Punk IPA and finished with tangy West Country Cheddar. The other a satisfyingly salty mix of tender beef steak and smoky bacon mellowed with BrewDog 5am Saint Ale.
Being the professionals that we are (and it being a mid week lunch time), we sacrificed the beer and sampled the range without a bottle of something expertly brewed. Which, though still the best lunch we'd had in ages, probably missed the point slightly. Heed our mistake. Grab one of these beauties from a Pieminister shop (picking up a beer en route) or BrewDog bar and bask in the glory of how brilliant it is to be British.