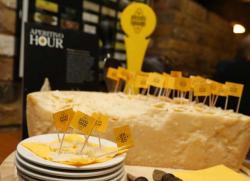 From Tuesday 19th to Thursday  21st August 2014 (between 5.30pm and 9.00pm), selected bars and restaurants across London will be offering the chance to enjoy Grana Padano cheese with your after-work tipple.
Italians have long enjoyed Grana Padano as a snack with their evening drink, knowing that it can bring out the full and complex flavours of an aperitif, and now Londoners can too.
Participating venues include:
Grana Padano a Protected Designation of Origin (PDO).  Recognised and protected by the Italian state and the European Union, Grana Padano PDO status means that it is essentially and exclusively linked to the particular area in Northern Italy, the Padana Valley, where it is produced and has been for nearly 1,000 years. It is inseparable from the climate, culture, and the know-how of the people that create it. This ensures the ultimate in quality, authenticity and traceability, making it an ideal ingredient in meals and snacks around the globe.
WIN a luxury Grana Padano hamper in celebration of Aperitivo Hour