Brew Cafe 342 Old York Road / 020 7585 2198 / www.brew-cafe.com

I have distinct memories of my family looking on in disapproval and general disgust when I wolfed down slices of pizza, cheese boards and olives or cold BBQ sausages from the night before in lieu of muesli or eggs as they had conventional fodder like toast (which is basically the same as pizza if you squint hard enough) more suited to those designated breakfast hours of 7-10am.
Anything after 10am becomes, as we as food fanatics, should all know, brunch. I've never been given much weight to that old gem of big breakfast, full lunch and light dinner either, preferring to cram it in as and when my body sends those pesky'eat' signals, so I was delighted to be asked to review Brew, Wandsworth, a place where you can have cake for dinner, brunch for supper and lunch or breakfast at any time of the day.
This ladies and gents, is'brinner' – the all day, any day breakfast/brunch/dinner mash up that puts paid to any culinary boundaries you might have built up.
One first glance, all of the three branches of this antipodean restaurant joint are decked out in pleasingly cool cafe style with a lot of white tiles, vintage mirrors and funky light fittings – the Wandsworth one sporting a sort of hipster chandelier made from reclaimed, wooden chairs.
As we as the laid-back, sunday brunch-er aura, the service is similarly relaxed, which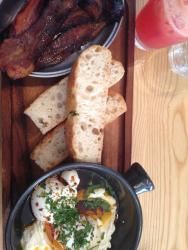 is not to be confused with slack. After we were seated the waiters were happy to chat their way through the menu, recommending dishes that spanned everything from turkish pide melts to lamb koftes and house burgers, one even taking the time to explain the intricacies involved in hanging your own yoghurt, of which there are many.
But therein lies the only problem with a menu that spans every course imaginable and lets you pick anything at any time of day – how the hell do you choose what you want? It was 1pm when my dining partner, K, and I had a mini meltdown trying to decide between homemade granola with roasted plums, a fat steak or butternut squash and halloumi salad. Eventually I went with the Turkish Eggs served with chili butter, toasted pide (Turkish bread) and that hung yoghurt (well, it seemed rude to after hearing so much about it) and a side of treacle-cured bacon.
The hung yoghurt was ripe and fruity with a texture like firm creme fraiche and came in sizable dollops that went pleasingly well with the smoky, fiery melted butter and oozing poached eggs, although the whole thing had turned into a greasy mess halfway through eating. I'm not sure anyone is ever supposed to eat that much melted butter, especially with a side of disappointingly flabby but deliciously sweet streaky bacon that dripped fat a stuck like molasses to the roof of my mouth every time I ate a chunk.
K's fishcake was a golden disc of deep-fried perfection, packed with surprisingly generous lumps of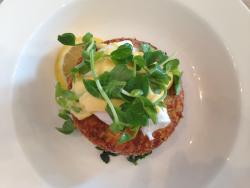 crab and cod and served with a beautifully poached egg, lovely hollandaise and a streak of wilted, emerald green spinach. The juices were damn good too, varied and punchy without tasting overly'good for you', I'd recommend the cranberry, pear and ginger. But where Brew really won my heart was with their cakes.
There were typically-aussie inflections in this selection to, with Lamingtons and Anzac biscuits making an appearance, but we couldn't resist the blondie with hazelnut ice cream and a sprinkling of pistachios and a fat wedge of very-red velvet cake. The red velvet was good, but the real star was the blondie. Oozing and meltingly soft in the centre and studded with hunks of half-liquid white chocolate, it was a desert-lovers swan song (because there's no way you're ingesting anymore sugar after that, believe me).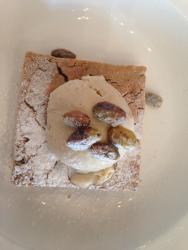 With an intriguing menu that genuinely made me want to come back to work my way through some of their other options (I've got my eye on their sweetcorn fritters with avocado, tomato jam & lime aioli and the Jerusalem chicken with roasted spiced carrots), Brunch is a discovery that is, as yet, pretty much under the radar. Loosen your belts, decide if you want breakfast for dinner or lunch for breakfast and visit one before everyone and their dog starts going for'brinner'.