Never heard of it, never been to it, but the Rajdoot is incredibly popular amongst my friends and even my family. Ok, the family reference is directed at my father, who knew of the restaurant from days of old, and still holds the establishment in high regard. My friends know it as'that really nice curry place in the Jewellery Quarter', which doesn't exactly cut the shortlist down, but at least they associate the Rajdoot with head-nodding and two thumbs up.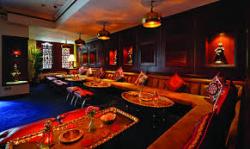 Arguably I've eaten at the extreme ends of the curry scale in Birmingham. I've wined and dined at the'fine-dining' restaurants on the odd occasion, but traditionally I've wandered into the more ethnic communities for a properly decent curry – one cooked from fresh herbs and spices rather than pre-made pastes. Rajdoot sits neatly towards the higher end of quality Indian restaurants in Birmingham, without losing itself in the opulence usually aimed at bringing in the more affluent customers.
The interior isn't shabby whatsoever. Carpets, artefacts, carvings and paintings are positioned around the restaurants without being intrusive but also without being hidden. It feels like an authentic curry house rather than a glorified chrome and glass laboratory. That's not what I'm after when I dine out for Indian food – I want colour, cushions, comfort and charisma with my curry.
The Rajdoot, like many Indian restaurants, has a starters menu that gets a tick for every dish stated. Typically, I'll run my eyes down the options until I find the word'platter' – purely so I can try a bit of everything. I'm not so keen when it comes to Oriental cuisine because on occasion you'll end up with a carrot baton in tempura batter…but at least when it comes to Indian cuisine even the vegetable dishes are winners.
Still, despite the vegetarian options being as, if not more, tasty than the meat dishes…there was nothing vegetarian about my starter platter. A plate piled with moist chicken shashlik; carefully spiced and not burnt tandoori chicken; shish kebab with punchy but not eye-watering chilli; lamb samosas that were outstanding; and some fish tikka thrown in as a special surprise that had enough flavour to make me consider becoming pescitarian.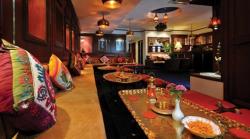 Warning – quality Indian cuisine could make you say things that are ridiculous. Of course I'm not going to give up meat. I love a good daal any day of the week, but when it's curry time I head straight for the lamb options. The old gut wasn't up for a fight this time, so a milder option of a Pasanda seemed fitting. The Rajdoot Pasanda had a nuttier flavour to others in my experience. It's a rich and yet not heavily salty sauce with firm yet flakey cubes of lamb that had soaked up the marinade well. Excellent naan and basmati rice to accompany the dish, as always, if only they could make versions I could eat and not put on hundreds of stones.
I wish I could write something clever about an Indian dessert that you've not heard of or thought about trying, but I bottled it completely and went for fruit and sorbet – both of which were great, but we all go for the starters and mains, right? Besides, the dessert menu will have something that will work for you, but the main attraction to the Rajdoot is the service.
Too often great meals are ruined by impersonal service and likewise, great service can be ruined by below par food. The one thing the Rajdoot can boast is the service matches the excellent food. The team here are friendly without being in your face and they're proud of the food coming out of the kitchen. It wasn't on my radar before, but it's definitely going to get another visit. Go for the unpretentious winning cuisine, stay for the friendly and excellent service.