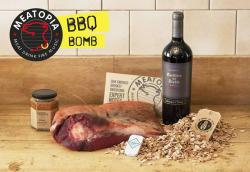 Chilean wine brand, Casillero del Diablo has teamed up with Hawksmoor's king of the coals, Richard Turner, to create some BBQ taste sensations – alongside wine matches from the Casilero del Diablo portfolio.
Casillero del Diablo and Richard Turner are part of Meatopia – a festival of meat, smoke and live music – on Saturday 6th and Sunday 7th of September at Tobacco Dock in London. Click here for more information.  
It's time to fire up the grill and indulge in some meat mania.
Smoked Brisket with Casillero del Diablo Devil's Collection Red
Richard Turner says: "The quality of the beef is vital to this dish. It's an easy recipe to get wrong, but unbelievable when cooked perfectly. Good brisket should have 3-4 weeks hanging on the bone, then another week off the bone. It's a good idea, if possible, to try this recipe midsummer as the cows will have had a few months of eating the richer spring/summer grass and the beef will have a greater flavour and level of fat running through it than a winter animal"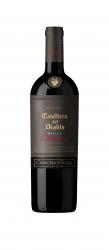 Wine Match: Casillero del Diablo Devil's Collection Red is a secret blend of parcels selected by Casillero del Diablo's chief winemaker, Marcelo Papa. This wine has a soft, spicy and velvety texture with flavours of plum and black cherry – perfectly complementing the smokey flavour of this delicious Smoked Brisket. Hints of chocolate and cedar combine with the wine's juicy tannins, leading to a long and lingering finish – making this Casillero del Diablo wine the ideal accompaniment to this full-flavoured meaty treat. RRP £8.99. Available in Tesco and ASDA.com.

Burnt Ends with Casillero del Diablo Cabernet Sauvignon
Richard Turner says: "Our love affair with brisket runs deep and burnt ends is our guilty pleasure. When on the menu at Hawksmoor, you constantly find yourself with a piece of grilled bread in the kitchen, hunting down the pan where we are cooking down our smoked brisket. Unlike traditional burnt ends, which are solely taken from the fattier point muscle of the brisket, we use the leaner muscle also. This recipe can be a great way of saving that occasional brisket that doesn't come out quite right – and when starting out, there will be a few!"
Wine match: Casillero del Diablo Cabernet Sauvignon is luxuriously smooth and full of cassis and black cherry notes that taste fabulous when matched with the smokey, meaty flavours of this dish. RRP, £7.99. Available at ASDA, Booths, Morrisons, Sainsbury's, Tesco, Waitrose, www.yourfavouritewines.com, www.tesco.com, www.ocado.com, www.slurp.co.uk

Pulled Pork with Casillero del Diablo Merlot
Richard Turner says: "This dish is made with the upper shoulder – this value cut has US origins, but is now gaining in popularity here. Full of deep flavour, this roasts up a treat and works perfectly "pulled" for sandwiches and burgers."
Wine match: Casillero del Diablo Merlot is a great match to this pork dish with its plum and herbaceous flavours – making this meat feast even more enjoyable. RRP £7.99. Available at ASDA, Morrisons, Tesco, Sainsbury's, Budgens, Nisa and www.tesco.com.
Thick Cut Pork Ribs with Casillero del Diablo Carmenère
Richard Turner says: "Ribs are often overlooked, but are very versatile. This BBQ dish sees the rich, deeply flavoured meat bring a taste of perfection, alongside the delicious marinade.
Wine match: Casillero del Diablo Carmenère is a soft red wine brimming with raspberry and blackberry flavours and mocha notes, rounded off with a subtle spiciness. RRP £7.99. Available at ASDA, Booths, Co-op, Sainsbury's, www.yourfavouritewines.com, www.tesco.com. www.slurp.co.uk
Why not take the easy option and arrange to have all of the ingredients to recreate Richard Turner's sensational Smoked Brisket recipe straight to your door, along with its matching Casillero del Diablo wine – by ordering the Meatopia BBQ Bomb!
To keep up-to-date with all the news from Casillero del Diablo, go to www.facebook.com/diablowinelegend and @DiabloLegendUK
Full ingredients and methods for recipes: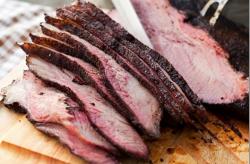 Smoked Brisket
INGREDIENTS
3-4kg brisket, point end cut.
150g beef rub
30ml mustard of choice
Set smoker for indirect cooking at 115°c.
METHOD
Coat the brisket all over with the mustard and evenly cover with the rub.
Place the brisket point side up into the smoker.
Add your wood, and probe the centre of the brisket. Brisket can be a fine line between perfect and overcooked so having a digital thermometer in the meat is very helpful.
The brisket should be removed when it reaches 86-88°c. That can be anything from 8-11 hours depending on the beef used. Many people crutch a brisket, which is to remove when it reaches 70°c and wrap it in tin foil with beef juices and fruit juices, but we do not believe this is necessary as it masks the flavour of the beef and stops a proper bark forming.
Do not worry if the brisket appears to have stopped cooking at about 70°c. This is the'stalling' period where the moisture in the beef begins to evaporate, cooling the beef and therefore stalling its cooking progress. This is perfectly normal so do not panic, or open any air vents in the barbecue or feel the need to foil it.
It is interesting to note that as our beef supply has improved and we take the dry aging process further the stalling period has reduced, giving us better results.
When the beef reaches 86-88°c, give it a prod. It should have a somewhat sexy wobble. The sexy wobble is key. Remove from the barbecue and wrap it cling film and foil.
To serve the brisket there are a couple of options.
The brisket contains two separate muscles; the'flat' and the'point'. Their muscles run in different directions, roughly 45 degress from each other. If you do not mind having a slice where the two muscles are running differently then slice them together. We prefer to separate the muscles. They can simply be pulled away gently from one another by working your knife, or fingers, between them. The fat will be so soft that it requires little effort. Be careful, it will be very hot. Once separated, trim any excess fat but do not remove it entirely as this fat brings so much of the joy to the eating.
Now slice against the grain of both the flat and the point.
You can also slice the point very thick, nice 2cm slabs, and then finish either side of the thick slice on a hot grill, painting repeatedly with barbecue glaze or devil dip.
The fatty brisket point caramelises incredibly and brings another level of flavour to the brisket.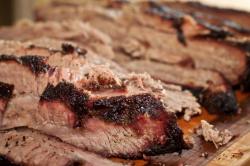 Burnt Ends
INGREDIENTS
1kg smoked brisket
300ml smoked dripping
300ml base bbq sauce
50g butter
METHOD
Set smoker for 120°c
Dice the brisket, flat and as much point end as you wish to use for your burnt ends, into a rough 2cm square dice.
Heat a pan, and add the butter. When the butter is foaming add the diced brisket and cook for 10 minutes, stirring occasionally, until the diced brisket is evenly browned. There should be a lovely smell of caramalised beef.
Add the dripping and bbq base cook for a further 15 minutes.
Place the pan in the smoker and cook for 30 minutes.
Remove form the smoker and use as needed. This refridgerates well and can be re-heated when needed.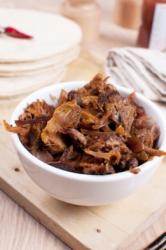 Pulled Pork
INGREDIENTS
1 untrimmed boneless pork shoulder
RUB
50 g sea salt
50 g light brown sugar
50 g fennel seed toasted
50 g fresh ground black pepper
Mix the ingredients to blend.
MOP
250 ml cider vinegar
125 ml water
20 ml Worcestershire sauce
50 g rub.
3 kilos natural lump charcoal
500 g hickory wood smoke chips, soaked in cold water.
METHOD
Place pork, fat side up, on work surface. Cut each piece lengthwise in half.  Place on large baking sheet. Sprinkle half the rub all over pork; press into pork.
Cover with plastic; refrigerate for at least 2 hours.
Light your smoker and allow to burn down as per manufacturers instructions, add half your hickory chips.
Place the rubbed pork shoulder on racks in the smoker and cook at 100°c for six hours or until the internal temperature reaches 89°c.
Every hour or so brush your shoulders with the vinegar mop liberally, you'll need to top up the smoker fuel from time to time and add more hickory chips.
Remove the pork from the smoker and shred into bite size pieces, pour the juices over the top and sprinkle with extra rub to taste, mix thoroughly.
Serve warm with barbecue sauce on the side.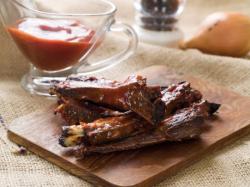 Thick Cut Pork Ribs
INGREDIENTS
1 kilo country style ribs with 2 cm of meat
Rub
10 g toasted fennel seeds
10 g toasted black peppercorns
10 g interesting sugar
10 g sea salt
Marinade
50 ml smoked chipotle tabasco
50 g American style mustard
50 g sea salt
50 ml cider
50 g maple syrup
50 ml black strap molasses
50 g apricot preserve
50 g freshly grated apple
Method
Blend the rub ingredients and reserve.
Mix the marinade ingredients together and reserve.
Remove the skin and inner membrane from the ribs and massage with half the marinade and refrigerate overnight.
Remove the ribs from the fridge shake off the excess marinade and season heavily all over with the pork rub. Lay the rack bone side down in the smoker.
Smoke at 105°c for 5-6 hours until the ribs reach internal temperature of 87°c. Test the ribs by holding them with tongs to see if they bounce. If they have a bit of resistance, similar to the touch of a medium rare steak remove the cooked ribs.
Cut the ribs into portions and baste liberally with the remaining marinade, allow to cool and reserve.
To order, charcoal grill the portioned ribs on each side basting as you go and serve.