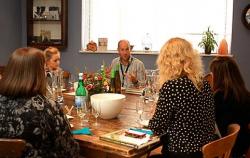 Do you lust after James Martin? Does seeing how fast your favourite chef can make a three egg omelette make you squirm with excitement? Do you place bets as to whether the celebrity guest gets to enjoy their food heaven or food hell? Are you a Saturday Kitchen fan?
If the answer to any of these questions is'yes', then your luck is in. Cactus Kitchens, who produce BBC One's Saturday morning primetime food show, have opened their studios up to normal punters like you and I for their Taste of Saturday Kitchen experience.
For £149 you can enjoy a tour of the studios, a wine tasting session with one of the production team, a crack at the omelette challenge, and a cookery demonstration from one of the show's galaxy of celebrity chefs.
As an irregular viewer of the show, I was happy to accept the chance to head down to the studios in Clapham in South-West London for a nosy. More of a draw though was the chance to see a cookery demonstration from Atul Kochhar, one of the country's leading Indian chefs.
I've been on a couple of studio tours and if there is anything guaranteed to remove the magic of television, I'm afraid it is the'behind the scenes tour'. Nevertheless, the rest of the guys in my group were more than happy to get pictures on set and in front of the show's notorious giant frying pan omelette-challenge leaderboard.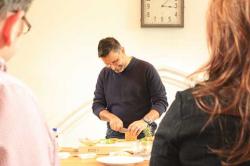 The most surprising thing of all was the small size of the prep kitchen, which is used to make all the dishes that require advance preparation by the home cook. No bigger or more advanced than the standard domestic kitchen, it just goes to show you don't have to have the most advanced kit or huge amounts of space to make great food.
The wine tasting was fun, but not aimed at those of us with more than just a passing interest in wine. We did try a good bottle of Gruner Veltliner though, which is a fairly under-appreciated grape variety, and rounded off with a glass of Australian Rutherglen muscat and some Christmas pudding, which is a bona fide cracker.
On to Atul Kochhar's cooking demonstration in the cookery school, which I was especially looking forward to, as Atul is head chef and owner of Michelin starred restaurant Benares. His chosen recipe, a Cambodian style curry with scallops, prawns and pineapple was delicious and not overly complex either. Almost the kind of thing you could knock up after work, or at least for a few friends on a Friday evening.
As we were only a small group there was plenty of chance to ask him, and the other guys who work on show, those burning questions: who's a prima donna, who can't cope with live TV, who demands bowls of blue M&Ms etc. Unfortunately, I've been sworn to secrecy on who's the angriest chef of all though!
£149 is a lot for three hours' entertainment and I don't think I would pay that much, but then again I'm just a poor writer. If you are a big fan of the show or know someone who is, it would make a good present for a Christmas or birthday. The guys there couldn't be friendlier and it isn't every day you get to chow down on food cooked right in front of you by one of the country's top chefs.
p.s. if you want to know how I did in the omelette challenge, it was awfully! My pan wasn't hot enough so I spent a minute and half looking at my gently cooking eggs, before losing patience and swilling the whole sloppy mess out on to the plate. I wasn't even close to a place in the big frying pan!