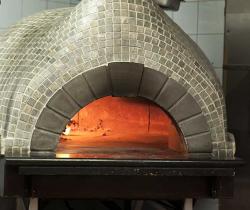 Not many people venture to Streatham, the post code that refuses to posh up, but a new pizza/trattoria is well worth the journey finds Nick Harman.
Such simple things pizzas. A base, some toppings, a bit of fiery heat and bob's your uncle. A good pizza is a thing of beauty, one of the few'fast foods' I actually enjoy rather than force down reluctantly. But'good' is hard to come by and it rarely comes on the back of a moped.
If you buy a delivered pizza from Addomme it will come in a car, most probably driven by co-owner Stefano and it will be fantastic. An Italian from Capri who spent many years in the UK, working as postman amongst other things, before setting up Addommè last year together with his wife Nadia. They have what is, for many people's money, one of the best pizzerias in London.
Go in and you know it's right. The small restaurant, cleanly and minimalistically fitted out next to the tracks at Streatham Hill station, resounds to the sound of Italians conversing and eating and Stefano and Nadia's genuine welcome. These diners know Addommè is the real deal and they travel some distance to eat here.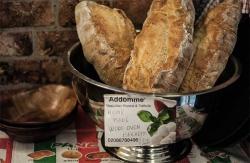 Not just pizza either, the small open kitchen has just enough space left around the large wood fired oven for the young chefs to prepare a few trattoria dishes on a weekly changing menu to keep things as Nadia says'interesting'. Orecchiette pasta with Basil Pesto and Italian Sausage for example, or Charcoal Grilled Italian Sausage served with Sweet Peppers and Potatoes. It's all simple and it's all good.
But back to the pizzas. Maybe there's something in the air that makes the pizza bases here so tasty? Down the hill at Franco Manco the bases are good too, but go to Franco Manco in Chiswick and they don't taste quite the same. So when I say'in the air'  I mean it literally; our air is full of wild yeasts and these get into the sourdough as it sits doing its long 24 hour  fermentation. Every corner of London will have different wild yeasts and maybe this corner has particularly fine ones? It's a theory.
Of course the dough has to be very good for any pizza to shine; fast risen dough doesn't just taste horrible it continues to ferment in the stomach causing a nasty bloated feeling.'You eat one of our pizzas and you still have room for another!' boasts Stefano.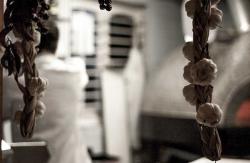 And a true pizza has to be cooked with a naked flame in a shaped oven,'even a gas flame is better than no flame'. Done right as here the ultra-thin base will levitate a tiny amount off the floor of the wood fired oven as the hot air whips around the dome. This gives the slight crunch, while still leaving the crust chewy and slightly sour so that it's not just the carrier of the topping but a flavour in itself.'We mix two kinds of flour for our dough,'says Nadia,'00 and Manitoba flour'
Stefano and Nadia are genial and genuine about who they are and what they are trying to achieve'This is our first restaurant,' explains Stefano,'although back in Capri I worked in a restaurant – everyone does. It's such a tourist place that most of the available jobs are in the catering and hospitality industry.'
Stefano's brother in law, Luigi is chef at the Monzu in Capri but is here in Addommè's little kitchen for a week.'He thought he was coming for a holiday,' grins Stefano, 'but he's giving our guys some training and advice'. I can see Luigi through the hatch; he and the young lads seem to be having a good time banging out the pizzas and pastas. A busman's holiday for him then.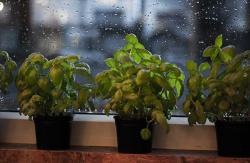 Luigi sends out a bowl of fried courgette and aubergine strips. The batter is thin, translucent, the vegetables still visible. It's crispy and lightly salted and it's gorgeous. We eat some bread, which is made, Stefano tells me in the early afternoon while the pizza oven is still hot, but not yet up to the super 470-480°C it will be later. We chew the slightly sour, slightly moist bread and crunch on the excellent crusts.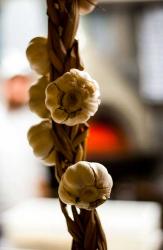 But this is a pizzeria so we consume pizza from the handsome wood oven bought in bits from Italy and assembled on site.'The ones sold here in UK are already assembled and would never have got through the door,' Stefano explains. The choice of pizzas is large but not overpowering, the choice is authentic. Nothing on the menu sounds odd, no toppings make me recoil in horror.
No deep dish, no sausage stuffed crust. There's Salsiccia and Friarielli (mozzarella, Neapolitan wild broccoli, Italian sausage, parmesan, basil and olive oil), a classic Romana (tomato, mozzarella, oregano, anchovies, black olives, capers, garlic and olive oil) and one of my favourites Bufalina (mozzarella, tomato, buffalo mozzarella, basil, parmesan and olive oil).
The pizza edges, still smouldering slightly at table, have the brown to black blisters that show correct fast hot cooking for no longer than two to three minutes, the centre is almost liquid and the smell of wood smoke still hangs over it. The tomato sauce made from tinned tomatoes from Naples is thinly spread and the fresh IGP mozzarella di bufala imported from Campania has the proper flavour. The pizzas look fantastic and taste even better.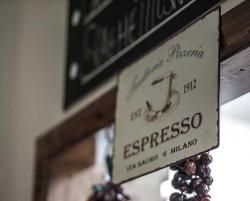 I try a bowl of linguine carbonara. The correct recipe for this is always a source of disputation among Italians, but none would ever add cream or bacon as Nigella Lawson does. The egg needs to coat the pasta not slide off and it needs to be creamy not scrambled. Here it's perfect and cubes of fatty pancetta, only barely cooked, are chewy jewels in the mix. Fresh parmesan adds umami to the perfectly al dente linguine.
For dolce I eat an enormous rum baba, the brioche cake saturated with alcohol and syrup. It's a gooey delight and with a hunk of bread gifted to me by Stefan and Nadia, I reckon I can make it home before getting hungry again. Streatham may not be a hot destination just yet, but Addommè is certainly making it cool.
Addommè, 17/21 Sternhold Avenue, London SW2 4PA Evenings only from 18h00-23h00 and Sunday lunch from 12h00. Booking essential.