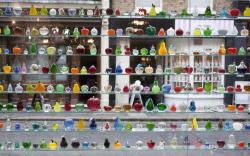 Mele e Pere has such bright neon lights outside that walking past I'd previously dismissed it as a sex shop. It's not, despite some odd shaped Murano glass sculptures of the eponymous fruits on display, but nor is it a trattoria of yore. It's modern; the high scrubbed wood tables accessed by the kind of tall stools that present a challenge to puffed out old bloaters like K and myself.
There is a normal dining room downstairs (ah Apples and Pears, stairs! I get it! ) but being lunchtime we wanted to sit by the new window area and watch Soho. This decision was soon rewarded by the sight of Antony Sher striding past, the very model of unleashed thespian egohair.
So we hauled ourselves up to the tables, gasped for a bit as you do, and then read the short but tight menu. The days of my cheerfully eating antipasti, a pasta dish and then a main are gone, especially at lunchtime, but a spread of sharing plates followed by a main dish is doable.
Mele e Pere has Andrea Mantovani, previously head chef at Arbutus at the controls and his menu is firmly Northern Italian. San Daniel ham comes with gnocchi fritti, which are large fried dough'pillows', not the gnocchi of potato some might expect. The clue is in the fritti bit. These Emilia-Romagna treats are very good foils for the quality ham, which we cram into the gnocchi's hollow hearts to make a gourmet sandwich. Olives and bread are also consumed, the bread good but the olives strangely antiseptic tasting.
Whoever first thought of pairing veal and tuna must surely have been on drugs, but it's a dish I've loved since first taste and here with the veal sliced paper thin, and the tuna not too thick-eared in the sauce, it works it's magic again. Gently briny Lilliput capers and squidged anchovies seal the deal.
We order a plate of squid components in batter. These are perfectly cooked, the smoked aioli heavy on the garlic but light on the smoke, while the accompanying lemon has been grilled a touch, which is a nice touch as it tempers the acidity and pretties up the plate.
We have some stuffed squid too, a freebie tester of a new dish sent out by chef, these are beautifully petite, tender and tasty but one still has its quill inside. Luckily I spot this before doing a Queen Mother. Not successful though are deep fried mozzarella bocconcini. The cheese hasn't melted even a little bit, which dampens down the flavour and the stringy fun, plus when I've eaten these before there's usually been a bit of sauce to jolly them up.
And so to mains, K gets a risotto after the usual long wait. People who order risotto should be consigned to the same ring of hell as those who order a pint of Guinness, forcing you to stay at the bar for what seems like an eternity.
But of course you can't shortcut a decent risotto and the wait does mean it's been cooked to order. K loves it; creamily al dente, shot through with aromatic smoked haddock, popping green pearls of peas and stacked high with deep-fried whitebait, He clears the plate and nearly takes the enamel off too in his enthusiasm.
I always go for hake when in Spain, but can the Italians swim in the same class? Yes they can, a beautifully cooked hunk of hake adorned with oodles of powerful, seasonal, wild green garlic, a real treat but deadly to the breath. The dish is dotted with chewy, in a very good way, brown shrimps. Having once peeled a bucket load of these lads in Ostend, I do appreciate what a labour of love it is to get them to table. The dish was as green as a Go lamp, but chef could have said stop a bit earlier when seasoning, the salt became a bit overpowering. Accompanying chips were so-so, but who ever said Italians could cook chips?
Only one of us could manage dessert, a cannolo well crisped and piped to bursting with ricotta. It's a rich dish but the ice cream, raspberry I think, or possibly strawberry I really should know these things, helped ease it down.
We liked the food at Mele e Pere, as well as the relaxed atmos, a lot and the set lunch dish prices are clearly great value at £8.50. Wines by the glass are averagely priced and I hear the vermouths are special.
The lunchtime we went the place wasn't as busy as it deserved to be at lunch, although I'm told it's heaving in the evening, but I think that's a decor problem. I'm no Russell Norman, I can't grow a hipster beard for one thing, but I'm sure some changes design-wise would pay dividends in luring in passing trade. The place doesn't really shout out'here be good Italian food' from the outside and it really should.