Rene Redzepi is the founder of Noma, thrice voted the best restaurant in the world. What is he like in person? Alex Ozga attends a leg of his European book tour to find out.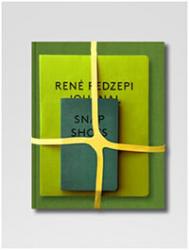 His name is spoken with a tone of hushed reverie amongst the culinary cognoscenti – everyone has heard of the cutting-edge dining that is the preserve of his kitchen, where local foraging meets molecular gastronomy.
On Sunday, the acclaimed Rene Redzepi, founder of the two Michelin star Noma in Copenhagen, was in Islington's Almeida Theatre to give a talk about his new book,'A Work in Progress', and to answer questions from a keen audience. He did not disappoint.
The book is comprised of three sections: a recipe book, collection of photographs, and a journal which he used as a form of catharsis during a turbulent couple of years running Noma, thrice voted the best restaurant in the world.
The talk opens with a short video which shows the chefs of Noma at work, followed by Redzepi explaining his motivations for writing the journal. He explains how working 90-hour weeks with a family to attend to had left him feeling burnt out and run down. The journal, he says, was a chronicle of his day-to-day life and ideas on how to run Noma; how to sustain the relentless thrust toward gastronomic creativity in such turbulent times.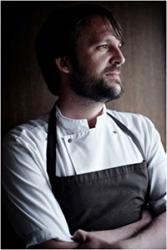 At first, the existence of the journal was kept secret. Not even Redzepi's wife was told. He explains how this was the result of some embarrassment –'Who writes a journal? Justin Bieber fans?' Later, however, he came to realise that these intensely personal insights would provide a fascinating glimpse into the day-to-day running of one of the world's most creative gastronomic enterprises. So'A Work in Progress' was born.
Once the audiences' appetite is sufficiently whetted, the real Redzepi is introduced to deafening applause. His presence fills the room, and it is immediately obvious why Redzepi has become so astoundingly successful in the world of haute cuisine.
His readings from the journal are at once animated, lively, and light-hearted, yet his seriousness about his profession is imbued in every word. He is not afraid to make liberal use of profanities, or speak his mind; it is clear that the words are raw and come from the heart. In spite of this seriousness, he speaks with a keen humour. On more than one occasion, the audience erupts into laughter at his anecdotes. 'He would make a good stand-up', I think to myself. There is a sense that the wide-eyed wonder of youth has not escaped Redzepi. He retains that boyish fascination, that keenness to innovate and push boundaries that successful people possess.
More clips are shown, many graphic. We see lambs' heads being delivered to Noma, with two chefs using a serrated saw in tandem to cut open the middle of the head. The brains are pulled out of the skulls one-by-one and placed neatly in a tray alongside each other. Redzepi explains how the chefs at Noma tried and failed repeatedly to make something out of them. Finely slicing and frying didn't produce quite the same taste as crispy bacon, while making a spread didn't work either. Eventually, the idea was axed, just one of many trial-and-error cases, another failed process.
We are told of a success story, however, using the unlikeliest of ingredients – ants. The idea, Redzepi says, was given to him by a Brazilian chef, who once questioned why they are not consumed in many of the world's cultures. A trip to the forests around Copenhagen followed, with the haul being packaged in a Tupperware box and brought back to Noma. The chefs crowded round the box excitedly, wondering who would be the first to taste the live insects scuttling about inside. The volunteer's apprehension soon turned to enthusiasm when it transpired that they had a strong lemongrass taste.
When the ants were incorporated into Noma's tasting menu, a mix of outrage and fascination swept through the media and collective culinary consciousness. For a while, the restaurant was derided mercilessly, though the derision soon turned to respect when journalists tasted the dishes that utilised them.
It is fascinating to hear about chefs working this way, having to forage for local produce year-round, even in the depths of a bitter Scandinavian winter, when there seems to be nothing at all to pick from the Danish woodlands. For Redzepi, this is normal: Noma has been operating for almost a decade and foraging and intense culinary innovation are as normal to him as breathing.
After the talk, we are allowed to ask questions. I seize the opportunity to ask something which has always fascinated me about chefs in Redzepi's niche: how does one transition from cooking the classics to being on the cutting edge of culinary innovation? Redzepi responds that the process was gradual, being a culmination of all that he has learned during his work for restaurants such as The French Laundry and El Bulli. It seems fair – culinary geniuses can't be made overnight. It only increases my admiration for a man who has changed the world's gastronomic landscape forever.
Follow Rene Redzepi on Twitter @ReneRedzepiNoma.