Not usually one for white wine, and with a knowledge of the subject you could comfortably fit on a beer mat, Nick Harman finds his taste broadened at an evening of Chablis and food matching.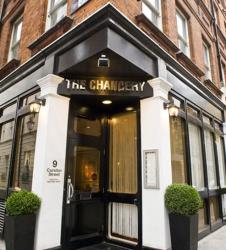 Emerging from Chancery restaurant wine writer and wine expert Douglas Blyde shepherds his motley flock of wine bloggers, journalists, novelists, and fashion victims along the pavement to the entrance of the underground private dining room of The Chancery. Those of us with fine palates choose to take this moment to hastily smoke a cigarette before hurrying after the group and down a steep staircase to the stygian gloom below.
Spirits are high. We'd been welcomed with truffle arancini and crab beignet, washed down with the first of very many glasses of Chablis, in this case a Petit Chablis, 2012 Dauvissat. A petit (small) Chablis is called such because it is not regarded as a big player, a lowly appellation, and yet this wine as Douglas informed us had every right to be admitted to top tables. A very pure and intense glass with the crab beignets a perfect match for it.
Now seated at one grand table, we put our serious wine tasting faces on. Personally I am not much of a white wine drinker, frequently finding that one has to spend a considerable amount of money to get something acceptable whereas with red you can get away with a more parsimonious approach. Or to put it another way, you can buy plonk.
I also felt a little left out, not having a big Canon dSLR to point at every object in the room as so many others seemed to have, and my smartphone decided it was far too dark to do anything so I put it away and raised my voice to compete with the buzzing of the dSLR users machine-gunning away. I was sat with Tim Lott, a novelist I have always enjoyed and he was good company, and not I suspect any more of a wine expert than me, but more than ready to try anything put in his glass.
And they're off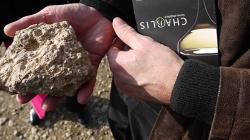 Douglas clanked bottles together to get attention and was rewarded with a blizzard of camera shots, but when they died away he began the first of many knowledgeable, witty, urbane and ironic talks about the wines appearing in front of us. Gliding up and down the side of the table on invisible roller skates, he dispensed wisdom without the usual pretension that wine people use as lingua franca.
I had been eyeing a large piece of rock on the table assuming it might be some kind of Heston thing and actually edible, but as Douglas went on to explain it was a sample from the ground where Chablis is produced, a lump of solid fossil oyster shells. The grapevine of Chablis is Chardonnay but the cooler climate of this northernmost wine district of the Burgundy region and this argilo-calcaire soil produces a wine with a taste nearly always described as'gunflint'.
A touch of glass
Our first wine was a Garnier & Fils'Grains Dores' 2012 matured in Austrian oak, whereas in general we were informed, Chablis is not oaked. This made it a bit'sweeter' than a standard Chablis I felt.  It's made by a young winemaker, Jérôme Garnier, who apparently made his father cry when he and his brother insisted on turning Dad's non-profitable wheat fields into vineyards. Well they saved the farm with that decision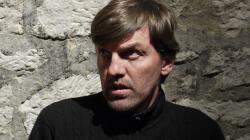 The other wine was made by Louis Moreau, the President of the Union des Grands Crus de Chablis. Domaine Louis Moreau exports 85% of production to 25 countries, including Lebanon and Macau, and this was more Chablis-ish. Tight and steely with a little bit of citrus which went best for me with Chancery chef Graham Long's marinated, raw hand-dived scallops, cucumber jelly, avocado cream, sesame filo and shiso dressing. A colourful, instantly impressive dish.
Premier Division
Climbing the slope of Chablis toward the quality summit, we now had a Premier Cru. These are Chablis that come from precisely defined geographical areas.  Number one was from Jean Marc Brocard's Montée de Tonerre 2011, where they are determined to convert the 200 hectares they manage to biodynamic values.
Biodynamic is a bit of a trend to talk about these days, with levels of involvement that range from sensible sounding respect for the land and for natural growth and fertility, to ways of working that sound awfully like a form of hopeful witchcraft. e.g.Preparation 502 – Yarrow flowers are buried sheathed in a stag's bladder. This is hung in the summer sun, buried over winter, then dug up the following spring. The bladder's contents are removed and inserted in the compost. Anyway, whatever the method, the wine was delicious.
The second Premier Cru, Val de Mercy's Beauregard 2012, comes from a sheltered area in the south west of the region –and both were served with excellent tartare of trout with poached apple, nettle purée, macadamia nuts and trout eggs (aka. keta caviar). I have to confess I was by now drinking with both hands and not acting quite the wine expert I could have been. Luckily Douglas materialised out of the gloom to tell us that the first wine had crystallised apricot notes with underlying butter and liquorice notes and even a touch of spice, while the latter was nuttier. Bobbing my head between glasses, I sagely agreed.
Do the Grand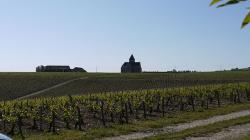 Where do you go after Premier? Well you go Grand of course. Grand Cru. There are only seven grand cru areas in an area, which overlooks the town of Chablis itself and the River Serein. The first wine was Les Clos 2012 made by a man who in his other life was responsible for French motorways. This led to many a quip of the'I'm getting tarmac and roadkill on the nose' variety, but in truth this was a very good wine indeed, which had a hint of oak about it.
Samuel Billaud's Les Preuses 2013 is made from 70 year'rented' vines and like the first was a seriously big wine that took on a superb dish of roasted quail, cannelloni of the leg and foie gras, sweetcorn, hazelnuts, pickled mushrooms and wild garlic and kicked its butt. As Jilly Goolden might say.  I could have eaten a great deal more of this dish and drunk a lot more of the wine too, which worked remarkably well considering that red would have been the more obvious choice, at least for me as I'm an idiot.
The daddy
And so to cheese and a big boy Chablis that swaggered in like Jamie Oliver attending a school reunion. Made in a heatwave year, not one that I recall happening over here, came Domaine Pinson Fôrets 2003. Pinson make only 5,000 bottles per year and this aged example was like honey on the tongue, which made it work very well with some excellent cheeses from Neal's Yard. I have never liked red wine with cheese anyway, preferring craft beers to bring out the flavours and not mug the cheese with thuggish tannins. And so to bed
And so it ended and we ascended the stairs somewhat unsteadily. As a guided tour to the oft overlooked virtues of Chablis it could hardly have been bettered. I shall be pausing at the white wine section in my supermarket more often now and seeing what Chablis I can choose to ring the changes.
Chase the Chablis on twitter @PureChablis