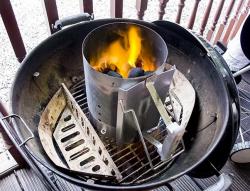 As the weather improves and we spend more time outdoors, our thoughts turn to barbecues and cooking great food to share with friends.  If you are looking for some inspiration and new ideas, then why not try out a barbecue cookery course?
From May 2015 you can take part in a Weber® Grill Academy experience at one of fourteen venues across the UK and Ireland as a variety of cookery schools – from The Cowshed Cookery School near Aberdeen down to The Kent Cookery School and across to Cooks Academy in Dublin, are now geared up to offer expert hands-on tuition.
The day will be packed with useful hints and tips while creating a delicious 4-course meal on various barbecues, using an assortment of Weber® accessories. The course costs £100 (€130) and teaches all-round cooking skills to get the most out of your barbecue. Lighting both gas and charcoal, how to control the temperature of the barbecue, getting the most out of using the heat and space on the grill and discovering the different cooking methods to enjoy a variety of dishes are all part of this great day out.
Participants will learn how to grill, roast and bake on the barbecue.  Throughout the day, they'll be shown how to prepare anything from roasts to risottos, pork loin to puddings! In-depth tuition in a friendly, relaxed atmosphere will inspire confidence and enthusiasm so that anyone can easily expand their barbecue repertoire.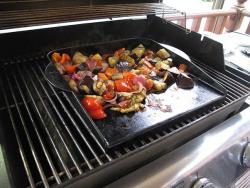 As well as these cookery schools courses, there are plenty of Grill Academy On Tour live events being held at garden centres up and down the country this summer.  Weber® Chef experts Dan and Jamie, will hold dynamic and above all entertaining barbecue cooking demonstrations.  These two-hour sessions are designed to show visitors the versatility of the Weber® barbecue and inspire them with confidence to create with ease culinary delights perhaps not normally akin with the grill.  There'll be plenty of opportunity to ask questions and pick up new tips, tricks and recipes with the chance to sample their delicious dishes.
For details on and how to book Grill Academy courses at cookery schools and to find out more about the Grill Academy on tour events at garden centres visit www.grillacademy.co.uk
Add to this a strong Weber®presence at leading food festivals GrillStock, CarFest and the Big Feastival where Weber®chefs will be cooking up a storm for the masses, 2015 promises to be a truly great barbecue summer.
Smoking is good for you – Weber Smokey Mountain on FP test
We go to the Weber Academy
Current cookery schools hosting Weber® Grill Academy Courses:
UK
Angela Gray's Cookery School, Vale of Glamorgan
The Cowshed Cookery School, near Aberdeen
Emsworth Cookery School, Hampshire
Harthill Cookery School, Cheshire
Hillmount BBQ Academy, Belfast
Hobbs House Bakery, Bristol
Seasoned Cookery School, South Derbyshire
Swinton Park Cookery School, Ripon, Yorkshire
The Food Hub, Debenham, Suffolk
The Jolly Gardener, Earlsfield
Kent Cookery School, Ashford, Kent
Republic of Ireland
Ballyknocken House and Cookery School, Ashford, Co. Wicklow
Cooks Academy, Dublin
Just Cooking, Killahane, Co. Kerry.