4A Upper St Martin's Lane, London WC2H 9NY www.tredwells.com
Danielle Woodward has a pleasant evening at Tredwell's, despite making the wrong food choices
Tredwell's is Marcus Wareing's mid-range, casual offering to the West End theatre crowd, locating in the Seven Dials development in Covent Garden and named after the butler in Agatha Christie's novel The Seven Dials Mystery.
The smart interior sets the mood with wooden booths, racing-green banquettes, mahogany wood-paneled walls and vintage radios and desk lamps. We stepped inside away from the bustle of Leicester Square and into what felt like an inviting, but rather clinical, dining area in a gentleman's club circa 1930.
No sooner had we sat down at the bar when a couple of cocktails were thrust in front of us – the house special 'Down The Apples and Pears', a tangy mix of vodka, elderflower, apple, pear and thyme. The attentive staff then offered us a table in the window on the ground floor – Tredwell's has three levels: a buzzy basement bar, quieter dining and drinking on the ground floor and an airy mezzanine level.
The eclectic menu is described as 'modern London cooking', which doesn't really reveal much. Scanning the menu, the starters included falafel, chicken liver mousse, pig's cheek and foie gras, but I decided to play it safe and go for the fish cake with confit egg, caper and herb mayonnaise. It was good – the smoky flavour of the fish was bold and complemented well by the herb mayo and egg, which was just a touch too undercooked for my taste.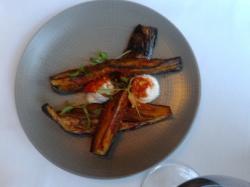 My friend had the harissa-glazed aubergine with peanuts, coriander and chili and, as soon as I tried a bit, I had food-envy. This was an unusual vegan dish that was actually exciting – a great combination of herbs and spices with cooling coconut cream.
For mains, we chose the roast corn fed chicken with leg croquette, broad beans and morels and the sea bass with carrots, cashew and coriander. Again, my friend made the better choice, as the sea bass was bland and unremarkable, whereas her chicken had full-on flavour and was pleasing with the vegetable accompaniments. The portions were a bit small but we did order a couple of extra sides: polenta fries, which were crispy and strangely sweet, and roast cauliflower with brown butter, which was just al dente and buttery enough.
The wine list was extensive with wines from France, the USA, Chile and Italy amongst others, and we were recommended the Spanish '4 Meses' Viňa Fuentenarro, Ribera del Duero, which had deep, smoky, berry notes and went down nicely.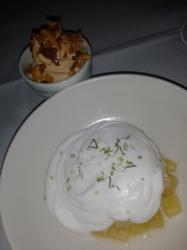 When our desserts arrived, I decided that I was just having an off day, as my coconut mousse with pineapple, mint and lime was a disappointing foam of barely-there coconut on top of what tasted like tinned pineapple pieces – and where were the mint and lime? My friend chose the salted caramel soft serve, which arrived with crispy butterscotch pieces sprinkled on top; it had a moreish, deep burnt caramel flavour and delicious creamy texture.
It was a pleasant evening, but I have to admit, it was nothing to shout about. That could just be down to my bad choices however, as my friend was very happy with her dinner. Next time I come to Tredwell's, I'll have what she's having.