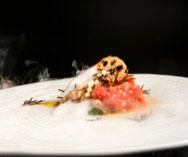 From 11th June, The Club at Café Royal will launch the next in the series of'The Domino Effect', with chef Aurelio Morales of Ramses restaurant in Madrid. Aurelio, an alumni of Ferran Adrià's El Bulli, belongs to a new generation of talent in molecular gastronomy, so guests can expect a few spectacular surprises.
The series of international guest chef collaborations has previously seen two-Michelin starred Spanish chef, Paco Roncero work alongside executive chef Andrew Turner to create an exclusive dining experience. After the overwhelming response to Paco's residency, The Domino Effect is back to offer diners a one-off chance to sample Aurelio Morales' cooking for the first time ever in London.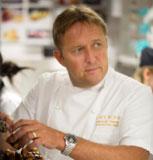 Running from 11th June – 11th July, Aurelio and Andrew will be creating an exclusive and avant garde seven-course menu including dishes such as:Watercress chlorophyll, quails egg, manchego cheese and crispy lamb bacon; Turbot citrus, fennel and tarragon;  and Emphasis on chocolate with Arbequina olive oil.
Guests will also be able to enjoya paired wine flight as well as a specially created Champagne cocktail, made by The Club's mixologist, Tiziano Tasso, in collaboration with Veuve Clicquot Rich. The Richer cocktail (Veuve Clicquot Rich, Belvedere Pure and oolong Orange Blossom cordial),will accompany the snacks. The menu will be priced from £85, with paired wines and cocktails at an additional cost of £50.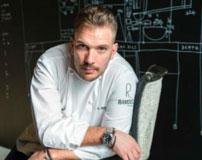 Aurelio Morales is head chef of celebrated restaurant Ramses in Madrid, where his avant-garde and minimalist-style of cooking is spread across five different spaces; Room Delicatessen, Laterraza, Petit, Champagne Bar and Suria – all of which have been designed by world-renowned designer Philippe Starck. Suria, which is Ramses' gourmet restaurant and Morales' main project, is also split into five unique dining spaces; Dior; Christine; Dom Perignon; Haima; and Black.
Having worked alongside culinary greats such as Ferran Adrià at El Bulli, and Paco Perez at Miramar, Aurelio, who is aged just 32, is a real upcoming star in molecular gastronomy. He has become known for his contemporary and sophisticated approach to cooking that highlights the quality yet simplicity of the ingredients.
Menu
Iberico 5 J ham (supplementary charge of £15)
Smoked sturgeon, pink salt caviar and white chocolate
Red Prawn Harumaki
Gazpacho, confit salmon and lettuce
Watercress Chorophyll, quails egg, manchego cheese and smoked lamb belly
Canelón de Carabinero con salsa americana
Turbot citrus, fennel and tarragon
Iberico pork and Apple
Baylands fruit surprise
Emphasis on chocolate and Arbequina olive oil
A selection of English and Spanish cheeses (supplementary charge of £10)
To book a table at'The Domino Effect', please call on 0207 406 3371 or email thedominoeffect@clubcaferoyal.com. Seating times are available from 6.30pm to 9.30pm.
#TheDominoEffect