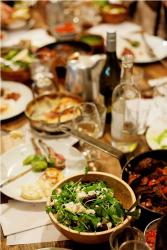 Not usually a fan of lamb – when it's good it's great but when it's not it's repellent – I needed a good reason to go out to eat some. That reason was an invite to join Annabel Langbein in the basement of Caravan in Exmouth Market to try recipes from her book The Free Range Cook.
It's not the first time Annabel has crossed the globe to meet the Brits, we met her at her book launch in August 2011 and were impressed by her no-nonsense approach to putting together meals that are big on flavour and not fussy or complicated.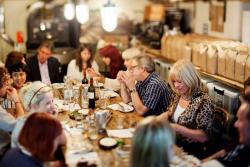 The dishes soon started to come out in giant, grab what you want platefuls, their aroma competing with that of the mountains of coffee beans Caravan store in the same room, along with their Probat coffee roaster for their excellent flat whites. The word that kept coming to mind though was 'Jamie', as in Jamie Oliver before the crusades, the missions, and the pomposity. Jamie as he was when he first hit our TV screens, an endearing little imp with a speech impediment who cooked big plates for his mates and loved to have a beer and a laugh. Ok yes it was a bit infuriating but the food was good.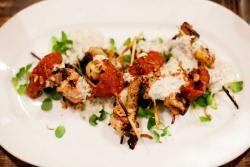 The kitchen at Caravan is doing a remarkable job considering they are also serving a full restaurant upstairs. Pork rillettes spread onto Lavash, an unleavened flat bread popular in Armenia, Iran and Turkey are rich and fatty, while chicken skewers dusted with chermoula are properly moist and not overcooked as they so often can be.
Five spice squid is excellent but the rich aioli with it is so garlicky it could stop Nosferatu in his tracks at a hundred yards. A day later and I still have garlic radiating out of me like I'm some kind of Five Mile Island of Alium.
Then comes the lamb, my nemesis. It's pink, really pink so that's a good sign. A fine rack of lamb it looks too splashed at is with a vibrant Salsa Verde. And it is as good as it looks, it's Silver Fern lamb from, of course, New Zealand. This was lamb just the way I like it. Anyone that doesn't manically gnaw the this kind of meat right down to the bones should have their lamb taken away and replaced with a beef burger.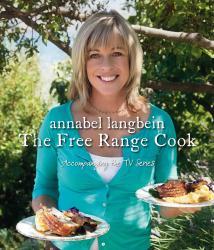 I also loved the pear, walnut and haloumi salad, which the menu helpfully pointed out 'may contain nuts'. So simple, so salty, so moreish and the sizzling beef and salsa had stopped sizzling but was still good piece of meat. A beetroot and rocket salad was another simple but effective dish as was a classic potato gratin. Yealands of New Zealand supplied the wine and while I didn't try the white, the red was impressive enough and worked well with the lamb,
It was good to actually eat recipe book dishes as actually cooked, or at least supervised, by the author along with fellow Kiwi Miles Kirby, head chef at Caravan. It demonstrated better than any book review what the recipes were really all about and how they should turn out. Delicious.
Caravan is at 11 -13 Exmouth Market, London EC1R 4QD