92-94 Farringdon Road,
London, EC1R 3EA www.meatballs.co.uk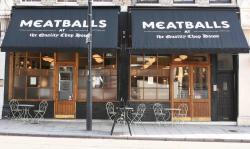 Living in a Grade II listed building (as I have) comes with a very clear health warning. You have a duty to preserve and maintain it for the very long term. Yes, modern life demands some changes but they should be made with sensitivity and intelligence. It can be tricky.
So I was intrigued to find out how London's legendary Grade II listed Quality Chop House in Farringdon had been adapted to suit its new incarnation – Meatballs at the Quality Chop House. And the answer is: with sensitivity and intelligence.
Built in the 1870s – and the only known example of a working man's chop house (a cut above a pie and mash shop) – it is instantly, recognisably, historically important. Panes of glass in its windows bear their original legends. 'Working class caterer" were what grabbed most people the night I was there but, for me, 'Civility" hit the spot. It isn't a request – it's an inevitability. Diners sit in oak booths designed for communal eating; chatting to strangers is part of the fun.
Opening nights are always convivial; generosity (of spirit and, er, spirits) always lightens the mood. This one was exceptionally uplifting. Everything about it made me smile and I've been back, for a quick lunch between meetings, and left feeling just as cheerful despite not having a single sip of Meatballs' signature blueberry gin.
There is a playfulness in its approach: the staff wear a uniform that isn't, well, uniform. It's casual-preppy checked shirts with jeans – but all the shirts are different; and so are the jeans. It makes the point without being a cliché. There is playfulness in the menu, too. It offers balls, of course: three for £3.95. Want more? Buy a bonus ball (well, it made lottery-hopeful me smile) for a quid.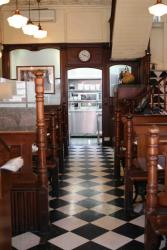 And it fits the current mood – discerning diners are getting sick of homogeneity and same old, same old chains; anything with a bit of wit appeals as does anything obviously different. Although the Meatballs formula lends itself to replication (what a fun franchise that would be!) its owners, Hugh and Shelly Fowler, say it is a one-off. They found the location and developed the concept to fit. 'The original bench seating lends itself to quick, fast, in and out food," Hugh explained. It wasn't uncomfortable and I wanted to stay – but I knew what he meant. It isn't the place to linger on a romantic date. It's a pit stop – a quality pit stop – in a foodie hot spot, inches from Exmouth Market with its Asian and Middle Eastern food stalls and the well-regarded Moro.
And so to the balls. Well, not quite yet because what we had first was nuts – a tiny, pretty bowlful of Shelly's smokily-spiced pecans, almonds and cashews. Just right while drifting through the drinks list including the blueberry G&T I drank too much of, a Chop House Sangria, and an intriguing selection of on trend natural wines chosen by Hugh because 'they are really exciting, a radical alternative to the prosaic and familiar". The Raisins Gaulois Beaujolais was impressively powerful.
In two visits, I've tried four of the balls. Lamb with a cucumber, dill and yoghurt sauce was moist, tender and, correctly, lightly pink inside, transporting me to a long ago trip to Cyprus. Beef and ricotta with a tomato sauce was richer, a delicious nod to Italy. Pork with rosemary and lemon was light, airy and really well balanced. They come in bowls of three of the same or as Sliders (any three in mini buns) or as a burger (three of a kind in a bun). There's no need for vegetarians to steer clear because of the restaurant's name; my favourite was the wholly satisfying courgette ball with a mild curry sauce.
Sides include a warming dish of peas with lettuce, spring onions and cream; creamed spinach, flecked with softened onion; buttery mash; and salads such as lentil, chick pea and Little Gem with a mustard dressing.
My neighbours declared the chocolate brownie ice cream sandwich 'awesome". I could have eaten a second creamy, smooth, lemon posset, served with a piece of light, soft, buttery shortbread.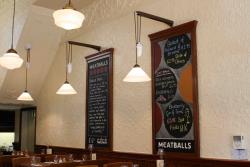 There are daily specials including a ball of the day, emphasising that everything is freshly home-made. It's well-sourced, too, with natural-fed, free range meat supplied by London butcher Barrett's.
This kind of meticulously executed concept doesn't happen by accident. Hugh and Shelly have been in the business for years. Their first venture was an ice cream parlour in St Catherine's Dock; next was a baked potato stall at Dead Man's Hole near Tower Bridge. Pleading for a job with an inside loo, Shelly persuaded Hugh to change tack – they opened Café Pasta, selling to Pizza Express. Hamburger Union followed then, in 2007, Hugh joined CG Restaurants (owners of Tuttons and Fire & Stone) of which he is now managing director.
I can't help thinking the one-off Meatballs at The Quality Chop House could turn into a very successful quality chain …