I didn't know it was possible to feel this way about a pork product. I mean, I have known strong feelings about bacon, crackling and the like, but I was not prepared for the flood of emotions I felt after tasting the jamon at The Barcelona Supper Club by Codorniu. I fell hard for that glistening leg of cured pork and I didn't care who knew.
Spending half the night covered in pig fat, with a glass of cava never far from my greasy clutches, I could act all smug and tell you about an event you'll never get to enjoy, but for the first time, The Barcelona Supper Club by Codorniu is open to the public.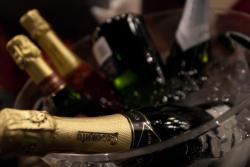 For a very reasonable 40 pound (don't have pound sign on keyboard), you can get up close and personal with the Queen of Catalan cuisine, Rachel McCormack, learn about the Codorniu family fizzness and carve your very own jamon with Chuse Valvor MC (Master Carver).
Divided into small groups and rotated through the activities of the evening, my group began with Rachel McCormack. She explained with her rolling Scottish tongue how too cook the Catalan cuisine that lies so close to her heart.
From there we moved up stairs and got down to fizzness with a Codorniu expert, who boasted the virtues of the Spanish sparkling wine, made using the Champagne method and known locally as cava. Sipping our flutes of fizz with illuminated teapots hanging from the ceiling and tea lights twinkling on our table, we sampled Codorniu Vintage Brut as crisp and fresh as biting into a piece of fruit.
Apparently stressed out grapes make the best kind of wine, as used in the more complex, lingering tingle of the Codorniu Reina Maria Cristina Blanc Noirs 2008 Reserve. We discovered the secrets of sparkling wine and learnt how to appreciate the variations in flavour, mouth feel and sweetness.
From tasting cava to Master Carver, we tottered over to Chuse Valvor who waited by his piece of pork with a twinkle in his eye – this man loves his job. Valvor gave us a little lesson in the provenance of the Jamon Iberico de Bellota that lay before us. He flexed his bendy carving knife while he explained the technique used to carve the jamon. Master Carvers today must spend years at university to acquire this skill.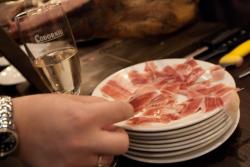 Struggling to keep up with demand, we took turns slicing and sighing with pleasure as the marbled fat melted on our tongues like butter. Flavoured with a life of pastoral luxury and a diet of acorns, this pig truly won my heart.
Valvor passed 'the cala' under each of our noses, an official pork-sniffing implement made of sharpened bone. Designed to test by smell, the quality of the jamon, it was incredible the difference in smell between the two parts of the leg.
Still suffering from acute porcine preoccupation, we finally sat down to the meal we had prepared. In the cozy booths of Bea's of Bloomsburys we dined on Wild Mushroom soup with smoked bacon, Duck Breast with Codorniu soaked pears served with spinach, pinenuts & sultanas and for dessert Walnut Custard Cream.
The Barcelona Club – an interactive evening celebrating the best of Barcelona food and drink, with three culinary masterclasses in one supper club, will take place at L'atelier des Chef from November 16th.
The Barcelona Supper Club by Codorniu is a great night out for a group of friends, a celebration or something just a bit different. Excellent value for money, you'll never be left without a glass of Codorniu bubbles. You'll walk away feeling wise to the world of sparking wine and possibly wondering what that strange sensation is. Don't worry, it's just withdrawals from the jamon…and quite possibly the realisation that you'll never have such wild and unlimited access to so much iberico jamon again in your life.
DELVE INTO THE DELIGHTS OF BARCELONA WITH Codorníu
What? The Barcelona Supper Club by Codorníu
Where? L'atelier des Chefs, 19 Wigmore Street, London W1U 1PH (www.atelierdeschefs.co.uk)
When? Wednesday 16th November 2011
Duration: Approximately 3 hours (7-10pm)
Ticket price: £40 per person
Places are limited, so if you want to join in on the action and be one of the Barcelona Club's exclusive supper guests, book your place via the Codorníu website
For more information visit www.codorniu.co.uk or check out our Facebook page http://www.facebook.com/TheBarcelonaClubByCodorniu.