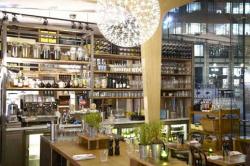 The first time I came across one of the restaurants operated by Benugo Group was on a visit to the BFI. I'd previously been to one at the Museum of London, but hadn't connected the dots because each restaurant has been given its own individual brand.
They seem to have cornered the market in operating in interesting cultural spaces and iconic buildings. Their restaurants now serve diners in over 10 museums and galleries, along with their growing number of high street cafe/deli locations.
Their new venture, Bishopsgate Kitchen is located within Bishopsgate Institute, or more accurately an ingenious glass annex that incorporates part of the art nouveau architecture of the Institute.
It nests between the Broadgate centre and Spitalfield's Market on the east side of Bishopsgate, an area traditionally low on the restaurant count. With the refurbishment of the Market, Bishops Square, and the creep of new office development eastwards, the area has become home to an ever increasing amount of diverse dining options.
The restaurant itself is a cleverly designed space, open and transparent but still retaining a rustic element. Expect a lot of the food to turn up on wooden platters or iron pans. They have kept things simple. The menu splits into Boards, a selection of mix and match starter sized dishes served, you guessed it, on a board, and a choice of six main courses with optional sides.
First up was a selection of cured meats, olives and bread, nothing unusual there but jolly nice as we chatted over a very good glass of Malbec. Following on was pan fried chorizo, peppers stuffed with feta and probably our two favourite dishes of the evening, baked Monte goats cheese sitting in a bubbling pool of honey which was M's favourite along with warm figs and blue cheese.
Steak is not something I generally tend to order but I was persuaded to try the 28 day hung Angus rib eye with herb and garlic butter and homemade chips. The idea of a having 10oz steak, especially when it's accompanied by a small bucket of chips, was a bit daunting after tucking into baked cheese and honey. It was a beautiful piece of meat though and accurately cooked, but I must admit that 5oz of it ended up on Ms plate to finish off.
M opted for the baked Wester Ross salmon fillet on a bed of caramelised leeks with scallion and potato salad, not over cooked and well presented on a sizzling iron pan.
Whilst pondering the three options on offer for our final course we noticed that the restaurant was by now pretty full which considering it was a Monday night in the City, coupled with torrential rain of biblical proportions that we had just witnessed, means they must be on to something. I should also mention that there is no booking required making it easier for spontaneous diners and or anyone lacking the ability to forward plan.
Passing on the poached pears I decided on the Chocolate torte with cherry compote The smooth chocolate was deliciously rich and worked well with sweetness of the compote. M opted for the trifle, nice light cream topping and custard but it had M grizzling about the lack of sponge in the base.
The kitchen has a changing seasonal menu and daily specials. Promoting the idea of all day dining they start with breakfast at 7.30 then through to lunch and dinner finally closing at 10, a long day for their quietly efficient staff.
Already popular with the locals Bishopsgate Kitchen is well worth making a detour for if you don't live or work this end of town. If you get a chance do have a look around what survives of the institutes lovely Arts and Crafts interior. Bishopsgate Kitchen is sited just opposite Liverpool St station, so pretty easy to reach, and proves another interesting addition to the group's unique portfolio of restaurants.