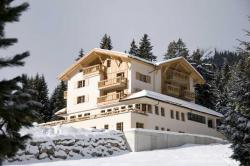 The Arlberg region of Austria attracts posers, princes and even the Pope to its world class slopes and it's not only for the skiing that they flock. This is the home of Alpine hospitality and some very fine food.
Known as the 'cradle of skiing', the Arlberg covers 280 kilometres of vertiginous scenery, from the remote hamlets of Stuben and St Christoph to the pretty villages of Zürs and Lech and the lively St Anton at its heart. In the summer it's awash with flora and fauna, hikers and mountain bikers; in the winter it disappears under 3ft of snow and receives bus loads of (sorry, but you are) mentalists intent on throwing themselves down powdery inclines. For fun.
As you might have guessed, I'm not a born skier. I tried it during a week in St Anton for the first time and on, I might add, some of the most testing terrain you can find in Europe, and while I can do it, I just don't get the attraction. My idea of a holiday does not involve paying through the nose to look ridiculous, feel inadequate and put my life in mortal danger on a daily basis. Call me mardy if you like. It does, however, involve imbibing a higher than average number of cocktails and plenty of authentic, good quality, local food.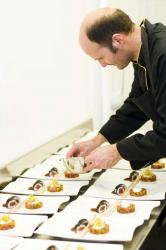 This area prides itself on its hospitality and warm welcome, a tradition that dates back 600 years when a kind hearted – possibly demented – shepherd called Heinrich Findelkind built a hostelry just below the highest point of the Arlberg pass at 1,800 metres, as a shelter for weary travellers. The snow here can reach roof height so this was no mean feat.
To finance the project he founded the Fellowship of St Christoph which today has many illustrious benefactors among its 17,000 members, many of whom make a point of visiting The Hospiz – now a five-star hotel renowned for its award-winning kitchen and vaulted wine cellar – during their annual mountain retreat. Some have their photos taken for the wall of fame, a pub style montage graced by an altogether better class of regular, such as Prince Albert, King Carlos of Spain, Vladimir Putin, even Pope Benedict. [Which kind of begs the question, how does the Pope get to such a remote outpost? On his Pope-skis?]
Being neither rich nor famous, I didn't sample enough of The Hospiz hospitality to adequately review it other than to tell you that there are bottles of wine in there the size of farmyard animals, the waiters are decked out like Pinocchio on smack and a glass of Coke costs 7 Euro.
Back in the valley of St Anton we found our own refuge at The Waldhof, a new hotel on the outskirts of town run by Michael and Andrea Ladner. The beauty of this place, aside from the pristine contemporary pine interior décor, is that you're getting all the best bits of The Hospiz at half the price. Andrea managed front of house at the five-star hotel for 18 years and met Michael there while he served his apprenticeship under Sepp Zangerl, head chef at The Hospiz for more than three decades.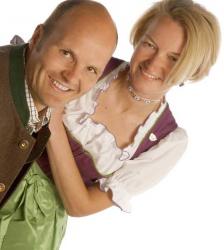 Their first joint venture is ambitious in size but quietly understated in their delivery of relaxed but efficient service and some superb cooking. It is taken as read that you will be residing on a half board basis. This is the way they do things here.
Breakfast is a great time to drink in the mountain views and fill your ski boots with fruit plates, yogurt and compote, oatmeal, local cheese and hams, assorted breads and eggs cooked your way, all laid out like a picnic at your table. It is enough to see you through to dinner, if like me, the sum of your snow fun is a few runs down the nursery slopes and a poke round the shops.
Dinner is served at 7.30 (remember, you're in organised Austria) and is a four or five course affair prepared in its entirety by Michael, all on his ownsome. Considering the complexity of his daily changing menus, and the self-effacing modesty with which he presents his food, this is all the more impressive.
Veal, apples, polenta, speck (bacon) and spaetzle (short egg noodles) make frequent appearances but this is far from peasant style cooking. Michael is a seasoned practitioner of the sous-vide method (meat sealed in vacuum bags and cooked slowly in a water bath) to produce meltingly tender lamb and beef entrecote, and there is a creativity in his pairings that is surprising on paper but obvious on the tastebuds. Local speciality rindssuppe (beef soup) is given added razzmatazz by floating flavoursome Tyrolean speck dumplings; a trio of hot and cold apple puddings reveal a showy side to this ordinary orchard fruit.
One stand out evening began with a sublime dish of lobster dressed with a gentle orange vinaigrette. It's tricky to eat and beam at the same time but I managed. This impressive entrée was followed by a delicious polenta soup, potentially a contradiction in terms, which was ably assisted by a slug of earthy truffle oil. Fillet of sea bass with baby leaf spinach and a speck sauce came after that, hotly pursued by rack of rosé lamb on a bed of black lentils. More joy in the form of a German plum tart before downing tools and raising a glass to the chef, who does a tour of the room at the close of each service to say a cheery hello to each of his guests.
Two or three wines are pre-selected by Andrea each night to accompany her husband's menu, among which are some belting Austrian reds, but these are not included in the half board deal and do not come cheap. You will not find much at The Waldhof under 40 Euro a bottle. But then this is a hotel for gourmet thrill seekers not snowboarding dudes looking for cheap steaks, shots and shags.
If you're in the market for some black run action before April and want a more refined style of après ski, then do as the Austrians do – book a stay at this hillside hotel and eat the Arlberg.
Der Waldhof, Stadleweg 40, 6580 St Anton am Arlberg, www.waldhof-stanton.com
Rates are per person/per day and range from 110 – 170 Euro, inclusive of double room, breakfast, gourmet dinner, saunas, steam-room and all taxes.