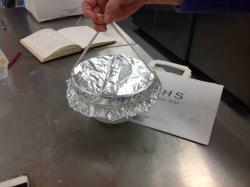 Anyone who listens to BBC Radio 4's The Archers will know that Stir Up Sunday is a major date in their family calendar. The ritual is the same every year, or so it seems to me: matriarch Jill Archer enveigles one or more of her grandchildren (always astonishingly compliant and keen) into joining her in the kitchen to give the Christmas pudding mixture a stir while making a wish and listening to a spot of religious indoctrination in the form of context. It's as significant a routine in Ambridge as Eddie Grundy getting drunk on scrumpie, Linda Snell's debilitating hay fever, everyone trying to avoid acting in the annual village show, and Brian Aldridge's wandering eyes roving over the latest two-legged filly to trot through the village.
Even though I listen to each episode of The Archers three times a week (I bet some of you know what that means) I don't remember Jill ever explaining that the Christmas pudding mixture is traditionally stirred from east to west (to honour the route taken by the three wise men) or, far more importantly for Foodepedia readers, that the pud the children are stirring up is not to be eaten that Christmas but to be kept, fed with booze from time to time, until at least the following year. Why can't the scriptwriters give us the facts? After all, as all Archers fans know, it's not fiction; it's real life.
Perhaps tonight we will get more details. It is Stir up Sunday, the last Sunday before Advent, on which a prayer including the words, "Stir up, we beseech thee, O Lord …" is read and taken as an instruction to kickstart preparations for Christmas over-indulgence.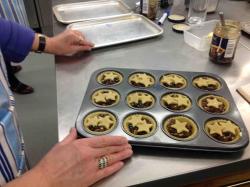 I learned all this (well, not the bits about The Archers) at a hands-on (actually, hands-in) class at Leith's School of Food and Wine which, as part of their collaboration with Asda and developing it's Extra Special range, invited us to taste their Christmas party food before making our own Christmas pud and mince pies and decorating a box of its Christmas Tree Cookies.
The result? It is so very easy to make your own pud it is time you adopted this ritual: assemble all ingredients first; glory in the wonderfully heady smells as you add fresh and zingy lemon and orange zest, smoky spices, molasses-rich dark treacle and rum-soaked fruit; stir east to west and make a wish as a nod to tradition; get help for the hardest part – sealing it with greaseproof paper, foil and string which is best done by two people and four hands.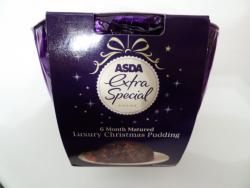 Even if your mother or grandmother insist on making the pud, do one yourself – to carry on the party back home next year. And, if you aren't being entertained, buy one ready-matured for this year (Asda has an Extra Special six month matured luxury Christmas pud or opt for the very delicious and beautiful log-shaped Extra Special Jewelled Yule pudding) and get stirring for next year. It needs time to develop and will change from highly textured with instant flavour gratification, to smooth, rich and with a long, satisfying and flavourful finish. As for me, my made-at-Leith's-with-Asda-ingredients pud is steaming away in my kitchen as I bash this out. I will feed it for a year (one glass for the pud, one glass for me, is the rule I assume I should adopt) and enjoy it next Christmas.
The questions today are: will Jill Archer stir things up this evening, which grandchild will be roped in – and how much will she reveal of the now-we-know-it back story? Scriptwriters, remember: foodies are listening.
See our recipes pages for the Asda and Leith's Christmas pudding recipe and the Asda and Leith's mince pies recipes.
Check out the Asda Extra Special range.
Read more about Leith's collaboration with Asda.